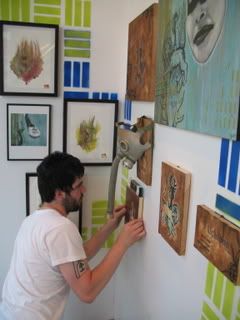 June has been a bless...met many beautiful people and had my works up in a number of places. I had 3 shows this last month.
****COLLABRO NYC curated by Poor Al and Tristan Eaton (June 9-June 16)
***Urban Outfitters art display window on Harvard Square, Cambridge from June 25-July 8th. Thank you Michael G. (on photo) for all your help!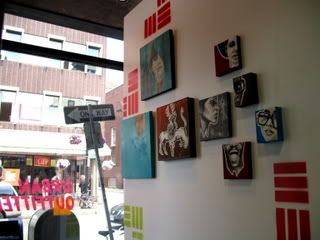 *** At the Goodlife, goodlifebar.com (28 Kingston St, Boston) as part of Simply Outstanding's "STAND OUT" show. Gracias Steve from Simply Outstanding for putting it together! From June 21 to July 14
*****
777 is the magic number: Universal Street Kulture Fashion Show on 07/07/07
Designer, b-boy Mayan Tamang (www.mayantamang.com) is bringing the new flavor to Boston's urban art and fashion scene with his 777 Universal Street Kulture Fashion Show this weekend. My dear friends Problak, ninerevolutions, hRo, Kenji Nakayama and myself are going to show some new works along with others bringing some fresh independent clothing design, spoken word poetry, and badass b-boy skills...come check out the event on July 7th, 2007! 7/7/07 at the Villa Victoria from 7:77pm on