HIT THE DECK was a blast! the decks were fantastic, both local and out-of-town artists brought fresh works...i didn't like the hanging system, but what can you do...i'll have some party photos up soon, so stay tuned. i actually made a tri-part deck, but as i found out they only had space for one:( oh well, here is the complete set.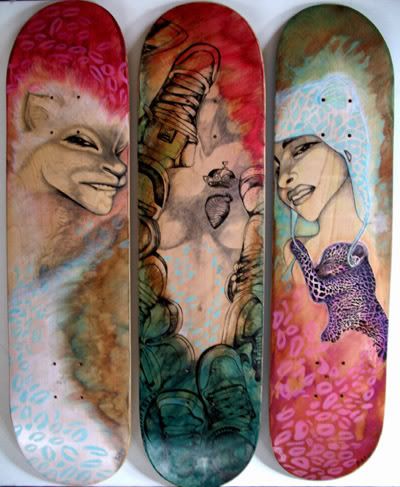 Now this cutie is my painter friend, Shayna.
Mitch aka MK Fresh, Matt and Shayna
Josh Falk of Project SF and Dan of Bodega
Kira and Swat getting down
I got my friend, Kenji startled..lol.. Mr Smooth on the left is Dana of Project SF.
Tara & friend
oh, and i want to share my friend,
Nick Zegel's
crazy tree-house skateboard, which wasn't at the show (I wasn't the one curating it, or else it would've been there for sure) but definitely deserves to be seen!