Boris is the real deal. He is another one of my friends who wows me each time I see a product of his creativity. He is a living, breathing, walking idea lab who's got that extra touch of warmth passed down from many generations of mamas in his family. Boris is a taste maker and he knows how to put a lasting smile on your face...Beside, he is one of the most brilliant graphic/apparel/web designers I've come across. If you don't believe me, check his website
ihearboris.com
yourself.
Boris
AKA Boris Chang Jr
//////////////////////////////////////////////////////
[
artist extraordinaire, graphic & apparel designer by trade (Triple 5 Soul, Puma ), enterpreneur, future CEO of sexy workaholics ltd... got crazy bboy moves, skates like Pharell, and is known to be a true friend
]
WHAT DO YOU DO? Permalancer / Apparel Graphics Designer / Woman Advisor
WHERE ARE YOU FROM? My mommy's tummy. I rep NYC. Why yes. I do.
TRUE BEAUTY IS…the sounds of feet walking on wet payment. Something about Fuzzy street lights and droplets hanging on tree branches that makes it all perfect at that one moment.
BEATS…Instead of listing my favorite shitty punk bands, new wave favs, 80s songs, rappers from Queens, and asian singers you will never know...
I'll just let you know that the current song my ipod bangs is: Shannon - Give Me Tonight.
TRUE SEXY IS…No makeup, no camera, just a smile and a attitude. Okay maybe something to cover your pelvic region.
MUSIC IS MY…soundtrack of life. It's on when I wake up, when I sleep, and when I dream. It is the sound of traffic and my parents arguing. I never said all music was good ;)
ART DOES NOT…have to imitate life. Or on a piece of paper. Or in a gallery. Or in someone's toilet.
MY NIGHTS ARE…long and need to be longer. They consist of talking to my baby girl when I'm not whoring it out on myspace and facebook. True story.
THESE 3 TURN ME ON…Bonnie Jean, Polaroids, and Succeeding.
SELF-KNOWLEDGE …is king.
ENOUGH OF …the complaining. More ideas, less opinions.
MY CREATIVITY IS…drawn from my surroundings. Everything has art, but not everyone sees it.
TRUE POWER IS…discipline.
LIFE CAN BE THE...gift and the curse.
TO LOVE IS TO…understand and know when to let go, and when to hold on.
I'VE GOT FLOW BECAUSE…I've got heart.
THE WOMAN OF THE FUTURE WILL...bear my children.
WHERE TO FIND YOU? on the internet. Or on some random city street.
www.myspace.com/iheartboris
All it takes is a little <3.
Ok, so I had a chance to pick Boris' brain
about his latest projects. I came across MADCREEPY/CREEP STREET --his adventure into the entertainment biz with partner, Chip--- some time ago.... it's a monster! Their CREEP STREET blog never fails to disturb, upset, get you grossed out and, most importantly, make you bust out the heartiest laughs. Take it with your daily vitamin supplements.
Lichiban: So was Creep Street born out of a nightmare?
Boris:

Creep Street™
was actually conceived in mid 2006 when my partner and I, then working at a sports lifestyle company were always talking about current trends in the street-wear scene, and how there were so many great ideas that weren't quite executed to our standards. With us being 80's babies, living in the 90's and rocking out in the 2000's we quickly clicked for the love of neon colors, monster movies, skateboarding, dinosaurs, food, bad commercials and basically weird & creepy irrelevant things that were ultimately poor in taste. With that being said and always wanting to start our own project - it was only proper to call ourselves Creep Street™!
[photo:stolen from the Creep Street blog]
We are our favorite movies, TV shows, and current hollywood tabloids combined with the raddest of colors, love for gore, horror, b-movies, hip-hop, rock, and pretty much everything your parents told you not to do. We get epic and hope you do too! Make sure you peep
www.madcreepy.com
& check our blog out too!
http://creepstreet.blogspot.com
What's new in 2008?
More rad tees and creeptastic accessories. We're not planning on going anywhere soon, so expect super epic things!
We plan on a full fledged cut-n-sew line, and in addition childhood recreations and home decor! (it's a creepy secret)....so keep them eyes open!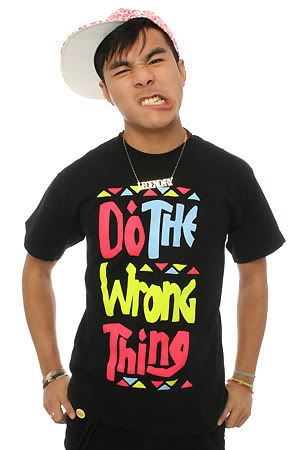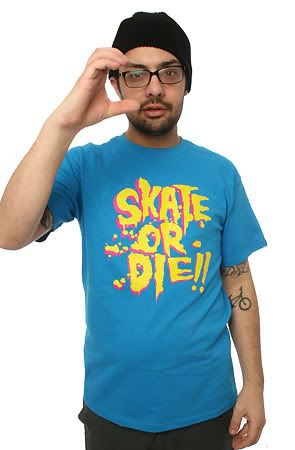 You can currently find us at
www.Karmaloop.com
, BODEGA Boston, The Bassment UK, Disorderly House Salt Lake City, and Future of Style San Diego.
We are expanding, so grab ya deck and ride wit' some real G's!!