My crown couldn't be more appropriate for this feature, as these two friends of mine have been proclaimed Kings of Digging by London-based
BBE Records
, one of the most respected independent music labels out there. Though they always add the disclaimer 'it was BBE's title, we don't call ourselves Kings of anything', these homies definitely rule. If you need to know anything about rare disco, soul, boogie, jazz, or afrobeat records,
Kon & Amir
are two of the peoples you should turn to.

KON
crate digger, producer, flow expert, disco! jockey, serious night owl///////////////////////////////////////////////
WHAT DO YOU DO? - professional ass mover
TRUE BEAUTY IS… effortless
BEATS… to the rhyme a the rhyme i get paiiid
TRUE SEXY IS…making me harrrrrrd
MUSIC IS MY… religion
ART DOES NOT… cost anything to make yet... its so luxurious
MY NIGHTS ARE…my days
THESE 3 TURN ME ON…class, taste, drive
SELF-KNOWLEDGE …is the key to clear perspective
ENOUGH OF …jive ass turkeys running shit
MY CREATIVITY IS…free
TRUE POWER IS…letting go
LIFE CAN BE THE...best friend you never knew
TO LOVE IS TO…not hold back
I'VE GOT FLOW BECAUSE….im good to GO GO GO go go go goooooooooooo
THE WOMAN OF THE FUTURE…never grows old
WHERE CAN WE REACH YOU? 1 800 WAX JUNKY
WHAT'S NEW FOR 2008? all the old shit you never heard..whats new is old
AMIR
crate digger, music expert, DJ, Waxpoetics label manager///////////////////////////////////////////////////
WHAT DO YOU DO? when I first get up every morning is make some coffee for the caffeine addict in me!
TRUE BEAUTY IS…like climbing the Flatirons in Boulder, Colorado..truly beautiful and breath taking!
BEATS…dope beats give me goose bumps
TRUE SEXY IS…the confidence one has in oneself
MUSIC IS MY…stress reliever and escape from reality..hahaha
ART DOES NOT…have to be a Monet or Van Gogh, but true art is whatever the soul wants to express at any given moment!
MY NIGHTS ARE…are full of brainstorming of ways to make the Wax Poetics label pop and planning what Kon and I are going to do next!
THESE 3 TURN ME ON…a woman's beautiful smile, eyes, and hips!
SELF-KNOWLEDGE …is knowing that there is a higher power than all of us
ENOUGH OF …the medium tees and skinny girl jeans for men!!!!!
MY CREATIVITY IS…stems from the heartache and pains I have had in life as well the the blessed moments in my life.
TRUE POWER IS…knowing there is nothing to fear but GOD
LIFE CAN BE THE...cruelest joke sometimes
TO LOVE IS TO…experience heartache and pain as well ultimate in pleasure
I'VE GOT FLOW BECAUSE….I got it like that..hahaha
THE WOMAN OF THE FUTURE…is one that lets her inner beauty shine far and bright...oh yeah, and she can talk about any topic in life with confidence
WHERE CAN WE REACH YOU?amirontrack@gmail.com
WHAT'S NEW FOR 2008? Kon and I are planning to gig more together and I want the Wax Poetics label the most talked in 2009...oh yeah, would love to settle down as well...hahaha
+++++++++++++++++++++++++++++++++++++++++++++++++++++++++++++++++
The story of Kon & Amir began back in 1996 when the two met at Biscuithead Records, while digging through crates of obscure gems from the 70s. They discovered that not only did they have the same passion for music and collecting vinyl, but they also had a particular passion for breaks and beats, so the two decided to put a CD together; thus, the first ONTRACK mixtape was born. Amir was working at Fatbeats at the time, and people slowly started to get hooked on the Kon & Amir mixtapes.
The legendary J Dilla was one of the fans of the ON TRACK series.
I've been listening to Kon & Amir's
ON TRACK
series for years and been lucky to get educated in rare soul, disco and boogie grooves by my homie, Kon. I had ON TRACK 6 on heavy rotation for years...it is definitely one of the most treasured collections of rare breaks and beats.
"Since first putting it down together in 1997, the duo has released a total of ten albums; six On Track installments of critical acclaim, another album called The Cleaning, an album appropriately titled, The Kings of Diggin' along with DJ Muro from Japan, and most recently, the first and second part of the Off Track series on BBE Records. Some of the most respected names in the game, including Shady Records, Diamond D, Dr. Dre, Capitol Records, Pete Rock, and Lord Finesse have sought their record knowledge and digging services.
Most recently, Kon & Amir accepted a five record deal with BBE/Rapster to begin the Off Track series, which builds off the successes of their highly respected On Track series. Unlike the On Track series, which featured short snippets of samples and breaks, the Off Track double disc series features full versions of some the best and rarest audible gems in their entirety. On one disc, Kon serves up extraordinary dance music (modern soul, boogie and disco) while Amir rounds out the sonic odyssey with rare, private press jazz and afrobeat selections from the 70's on the other disc."
After the highly acclaimed first OFF TRACK, finally the second installment of the series dropped last month. On Side One, Kon is still killing it with the disco and boogie tracks. My personal favorites are Angelo Tinsley's sexy "Get Down With Me", Wood Brass and Steel Band's complex "Long Live Music", Jay McGhee's groovy "Turn Me On", Phillip and Lloyd's tight dance track "Keep on Moving" and the Fabulous Conti Family's "You've Got Me Going Baby", which recalls memories of summer, youth and being in love .... definitely gets me going. Go to the
BBE site
to download or listen to the tracks. Kon has a blog where you can download several of his mixes for FREE!
Check it
.
On Side Two, Amir is sharing some serious heavy-hitters as well. The intro, Rastafarian preacher, Ras Michael & The Sons of Negus's "Boma Yeah" from Jamaica sets the mood with a pretty deep reggae tune, then follows a journey through some rare Latin rhythms and obscure afrobeat anthems. I loved Honore Avolonte et L'orchestre Black Santiago's "Assounon Dje Dokoli", the sexy "Hello There" by Theodora Ifudu, Track 8 by Bentho Gustave Titiou Poly Rhytma, an afrobeat gem with some super fresh breaks for bboys, Earl Rodney's Caribean heartwarmer, and William Onyeabor's dope track "Something You'll Never Forget" evoking 70s blaxploitation soundtracks. (Not surprisingly, since the Nigerian William Onyeabor studied cinematography for many years, and started his own Wilfilms music label and to set up a music and film production studio in the 70s.)

This record got that sexy vibe, you can keep around as the soundtrack for the summer. Serve it with dancing shoes.

[photo: TONE]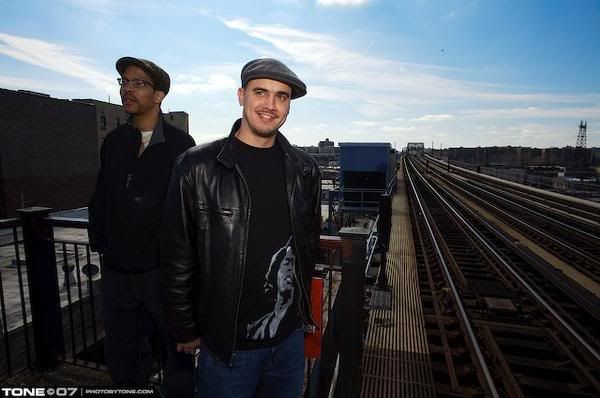 [photo: TONE]