I have been a fan of JAMEL SHABAZZ for years. As an activist myself and firm believer in the responsibility of artists to give back and to raise awareness about issues that matter today, I have enormous respect and admiration for Jamel Shabazz's extraordinary work that has always been about celebrating the community and capturing the human spirit with a loving lense. He documents life in its ephemeral beauty not simply for the sake of recording history, but because he has a genuine love for his subjects...images that inspire and make you want to know about the lives of people in his photographs. His photography is a lesson 101 into how to capture flavor, soul, intimacy, playfulness, style and simply realness.
[photo source: jam.com]


As the excerpt from his new collection of photo memoirs states, SECONDS OF MY LIFE, "Exposed at an early age to provocative images (Leonard Freed's Black in White America) of both Southern and urban life, Shabazz has long been committed to documenting his community and the people who gave it life;to counteract the damage society can wreak on self esteem. Shabazz has been an inspirational force in black culture since 2001: his photoraphic essay Back in the Days, a 20-plus-year documentation of urban life and hip hop culture, from fashion and performance to verbal and visual languages."
This past month, I had several occasions to watch the 'master at work'...my admiration grew even bigger as I watched him interacting with those in front of his lens. His love for people I could intuit from his work was completely confirmed in real life. First, on June 8th, I had a chance to participate in the realization of the project called "A GREAT DAY IN BROOKLYN" that my organization,
DOPE SWAN
had been working on for months. Here is an excerpt from our press release.
JUNE 8, 2008


Shooting A GREAT DAY IN BROOKLYN at the Brooklyn Museum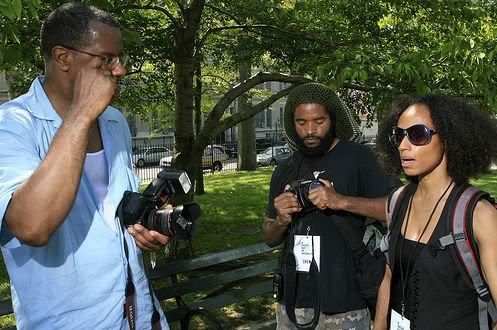 "Brooklyn, NY – June 17, 2008 – On Sunday, June 8, community arts organization DOPE SWAN launched Brooklyn, Stand Up!: Documenting the Brooklyn Renaissance with "A Great Day in Brooklyn," a historic photo event shot by renowned cultural documentarian and Brooklyn native, Jamel Shabazz.
"A Great Day In Brooklyn" follows the footsteps of Art Kane's iconic image of jazz aficionados, "A Great Day in Harlem," and will be the cornerstone of Brooklyn, Stand Up!, a year-long study into what has been called the Brooklyn Renaissance. In addition to the photograph, the Brooklyn, Stand Up! project will consist of several components, including: monthly arts programming in and around Brooklyn, an online archive of interviews collected from Brooklyn's self-made leaders, and a scholarship fund for Brooklyn students wishing to pursue an education in the arts.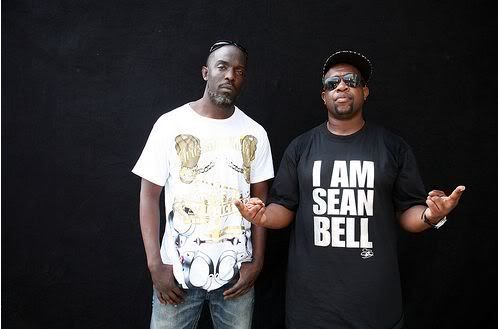 Left: Rock of the Boot Camp Click, Cynical & Mos Def...Right: BK represent (Lichiban & Sarah White=
WRONGLIPS
in upper right corner)!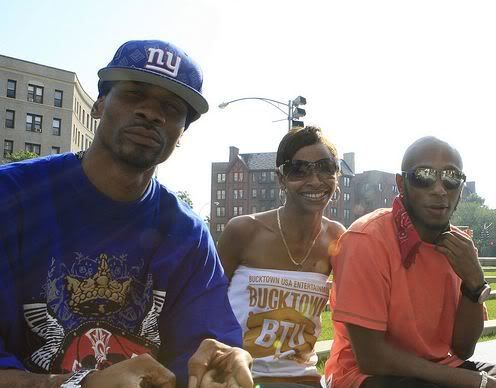 Several amazing artists, activists, and entrepreneurs whose lives and works breathe the essence of Brooklyn were in attendance, including the owner of New York City's first eco-eatery
Sean Meenan
,
Michael K. Williams
from HBO's "The Wire", hip-hop emcee, actor and community activist
Mos Def
, Black Girls Rock! founder
DJ Beverly Bond
and Tony Award winning Def Poetry Jam artist
Suheir Hammad
. Read more and check more flix on the DOPE SWAN site
here
.
JUNE 20, 2008


The follow-up shoot of A GREAT DAY IN BROOKLYN at the Manhattan Bridge, DUMBO + book signing with Jamel Shabazz at Powerhouse Arena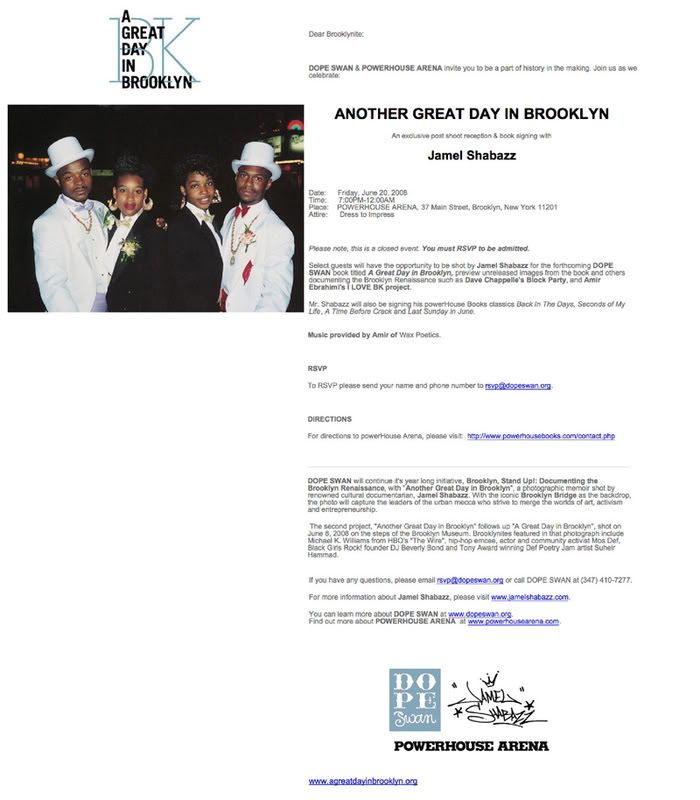 JUNE 21, 2008: AVANT YARD at MOCADA
On June 21st, one of NYC's underground art collectives, AVANT YARD had opened its door to
Ancient Futures: The DNA of Cultures and Civilizations
curated by amazing photographer,
Malik Yusef Cumbo
at
The Museum of Contemporary African Diasporan Arts (MoCADA).
"A revival of the critically acclaimed 1990s Avant Yard underground art movement in Tribeca, that took the New York art world by storm, the exhibition Ancient Futures will feature work from several of the previously exhibited artists that started the revolution, as well as newer, emerging artists that are continuing the tradition of pushing the envelope." You can check some of Jamel Shabazz's work, as well as other talented AVANT YARD artists here until September 7, 2008....not to be missed. To get a taste of the art, check
my post on WRONGLIPS
.
JUNE 22, 2008

Sunday @ Danny Simmons' Corridor Gallery: Artist Reception & Opening for POSITIVITY, Curated by Jamel Shabazz
Then, to finish off the month, I had a chance to see his work the forth time and express my admiration for his relentless work in supporting community empowerment and artistic growth as a mentor, inspiration and photographer extraordinaire.
POSITIVITY, a group exhibit curated by Jamel Shabazz "explores photography beyond its subject matter highlighting the POSITIVITY represented in the definite moment when the lens captures and shines on an individual or object."
On View: June 22 July 26, 2008. Artist Panel Discussion: Saturday, June 28 4-5pm. Moderated by Danny Simmons & Talib Kweli Danny Simmons Corridor Gallery, 334 Grand Avenue, Brooklyn, NY 11238
Check the flix from the reception of one of the talented photographers, Laylah Amatullah Barrayn (right)
here
. Stay tuned for her show at MOCADA opening on August 3, 2008, entitled KINDRED COOL that captures some intimate moments from the life of contemporary jazz musicians. I had a chance to design Laylah's flyer for the show, so make sure to check back for details at the end of the month.
[photo: Laylah Amatullah Barrayn
]