Saturday, August 9th

will be yet another incredible day of my life in Brooklyn. During the day, I will be painting at the Yume loft (925 Bergen St bw Franklin & Classon) along with my dope live artist colleagues
Fly Lady Di, Lexi Bella, Rizz22
,
Pesu
,
Brian, & Concep. Check the details below about the ROCK THE BLOCK block party...it's definitely an event you will not want to miss! Then I will head to Greenpoint, to work on an Obama portrait for the fundraiser ALTEREGOBAMA. If you haven't had a chance to buy the dope Warhol Obama Ba-Rocksmith t-shirt, this is the time to get it...all the proceeds will go directly to the last campaign push. Yes we can might not be just a slogan after all...

My friends Diamond Girl & Handshake have worked really hard to put the Obama event together. Big shout out to them, as well as to the ROCK THE BLOCK crew, Mike of Yume, Al of Minority Report and Ashley of Waxpoetics for getting me involved in these cool events..thank you!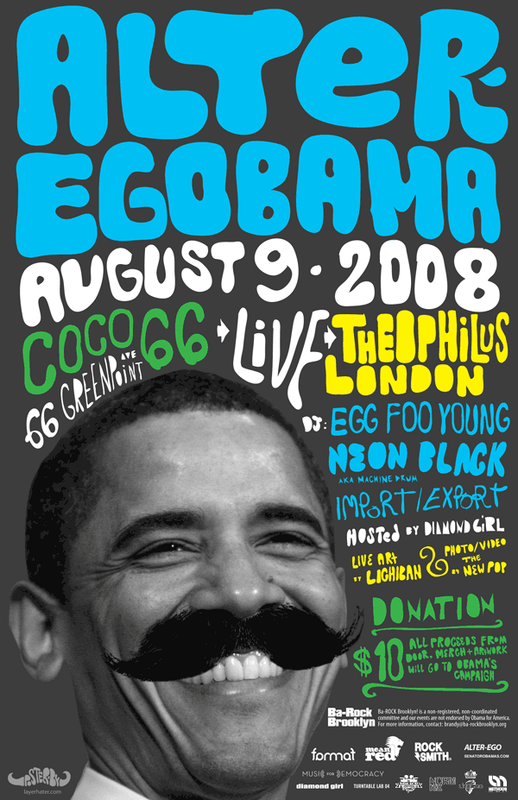 /////////////////////////////////////////////////
ALTER-EGO PRESENTS
/////////////////////////////////////////////////
ALTER-EGOBAMA
Time for your Alter-Ego to shred til dawn at our Evil Twin Dance Party /// Obama Fundraiser /// Moustache Extravaganza. Because Alter-Egos Support Obama. And we all need BASS.
Date: August 9th
Place: CoCo66 66 Greenpoint Ave
Door Donation: $10
Djs:
IMPORT/EXPORT (ALTER-EGO)
NEON BLACK AKA MACHINEDRUM (NORMREX)
EGG FOO YOUNG (TURNTABLE LAB)
Live performance by:
THEOPHILUS LONDON & THE LOVERS (NORMREX)
Hosted by:
DIAMOND GIRL (ROCKSMITH)
Live art:
LICHIBAN (WRONG LIPS)
Video & photos by:
TREVZ & TEXAS (THE NEW POP)
Special thanks to:
FORMAT, MEANRED, MUSIC FOR DEMOCRACY, BA-ROCK BROOKLYN, SENATOROBAMAS, & METHODS NYC.
All proceeds from door, merch, & artwork will go directly to Obama's campaign.
//////////////////////////////////////////////////////// CONTINUING A LEGACY OF BASS


ROCK THE BLOCK is where it's at Brooklyn! Come out on Saturday to see some of BK's finest. Peep the video promos on the dope
Minority Report blog
to get an idea. Below are the details from MR directly:
Finally the game is to be told!
At long last the plans for
"the Def Star"
has been revealed.

Saturday Aug. 9th,

the
Minority Report, Keistar Productions, Yume, Dope Swan, the Stylistics
Agency
, the Ahficionados , Not Just Vintage, & Frank White
have brought the very best of upcoming talent together to present a One Day Art Convergence in
Brooklyn
(where else?)
Being held in
3
different locations, within the same block(s) radius.
1.
Frank White
- 936 Atlantic Ave
2.
Yume
- 925 Bergen St
3.
Not Just Vintage
- 1256 Bedford Ave
Live performances
-
Fresh Daily, Theophilus London, Jesse Boykins III, Print w/ Good Day Good Night, Ray 6, Vice Lounge, Honey Larochelle, Ernie Gaines
Live DJs
-
DJ Spinna, DJ Scratch, DJ GoldFinger,
DJ Soul, Blackcocaine, the M Report, Miss Behavior & Melo-X
…With A Special
*B.I.G. Pimpin'
:
Jay-Z & Biggie Tribute
by
DJ Scratch*
Live Painting -
Fly Lady Di, Lichiban, Lexi Bella, Rizz22
,
Pesu
,
Brian, & Concep
Spoken Word / Voter Registration Drive / Fashion Shows
+ Food by
Love Ya Like Cooked Food & Little House on Clinton
ALL DAY EVENT
12pm-8pm
"
ROCK THE
B
LOC
K"
~ Bringing Awareness To The Emerging Artist Renaissance That Is In FULL FORCE In BK!!!*** Go Brooklyn!