The Brooklyn-born
Theophilus London
one of the leaders of New York's new underground scene has been making big waves local as well overseas shores. The first thing that struck me when I saw him perform first was how free Theo was as a poet. He and his band, The Lovers, are doing something fierce...while people might try to force his work into hip-hop, new wave, or other genres, one of most refreshing things about his music is that it is completely out-of-the-box. His partner-in-crime, the man behind the production and mixing is Brooklyn-based producer/DJ
Machinedrum
in whose melodies you might pick up the influences of Kraftwerk-Joy Division-Prince-Michael Jackson-The Smiths-Clash-electro, soul, electrofunk and hip-hop, but the outcome is one of the most soulful & distinct electronic music I've heard these days. Theophilus pours his heart into his art (which is where real flow comes from) and he's got the aura of a true artist, which comes from being connected with his creativity and feeling free to experiment with it. You can download here his mixtape
JAM
(link below). My personal favorites are
the spacey techno beats softened by sweet female vocals on
Future Times
, the dark and sexy electro throwback
Late Night Operation,
and the superfastpaced & cathartic turn-on,
Ultraviolet
.
Love the atmosphere on
Ber Ber Der Dant
and of course you can never go wrong with Prince (
Die for You
). D.V.R.C. (=Domestic Violence Resolution Cause..gotta give some extra respect for this one.)
This is the
JAM!
WHAT DO YOU DO?
I'm a Lover and a Musician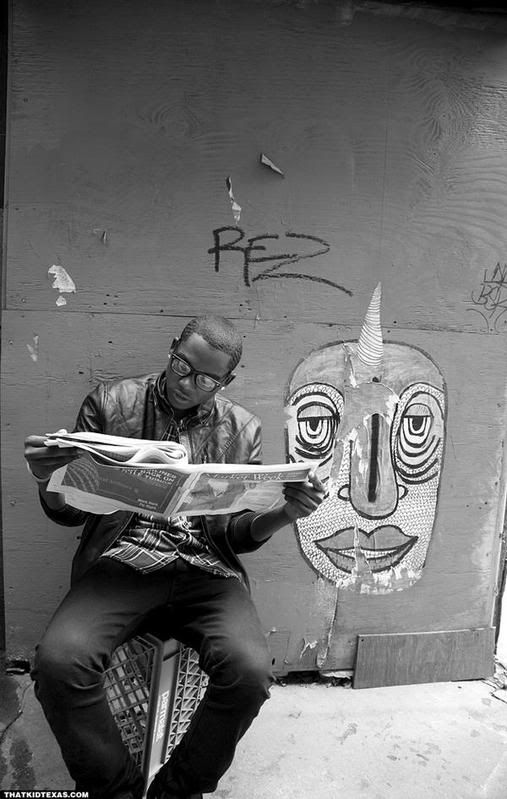 WHERE DO YOU CALL IT HOME?
Brooklyn, New York
TRUE BEAUTY Is
... Understanding and self knowledge
BEATS
… make me shake what my father gave me.. Lol
TRUE SEXY IS
….a dark innocent desire for love
MUSIC IS MY
… souls identity on 3rd and 5th dimensional worlds
ART DOES NOT
… deserve to be called art, it should be called LIFE
MY NIGHTS ARE
… sleepless and boring (hint)
THESE 3 TURN ME ON
… Lips,
SELF-KNOWLEDGE
… is the key to our past. We as people are so dumb and brainwashed that we forgot how to do supernatural things, forgot about the wars that took place on mars, forgot how to teleport, forgot how to be immortal, forgot how to travel to different galaxies, forgot that the Egyptians built all the so called new technology we use today, we basically forgot everything. 2012 we will all know the truth.
ENOUGH OF
…eating I'm going to become a breatharian
MY CREATIVITY IS
… expanding everyday, I Love My Job!
TRUE POWER IS
… within the pyamids in Egypt, which holds the worlds source of energy.
LIFE CAN BE THE
... Never ending energizer bunny, but it won't because we think death. What ever u think of will come to light. I know a man who is 300 years of age. Do your research
TO LOVE IS TO
…highly understand at the highest point. Love is also the worlds biggest magic trick
I'VE GOT FLOW BECAUSE
…. I am water
THE WOMAN OF THE FUTURE
… should be my unborn daughter
WHERE CAN WE REACH YOU?
Myspace.com/londonwave
WHAT'S NEW FOR 2008?
My Mixtape JAM! Download now at-
http://www.machinedrum.net/

theophilus

%20london%20jam%21.zip
This Charming Man ep coming soon
!