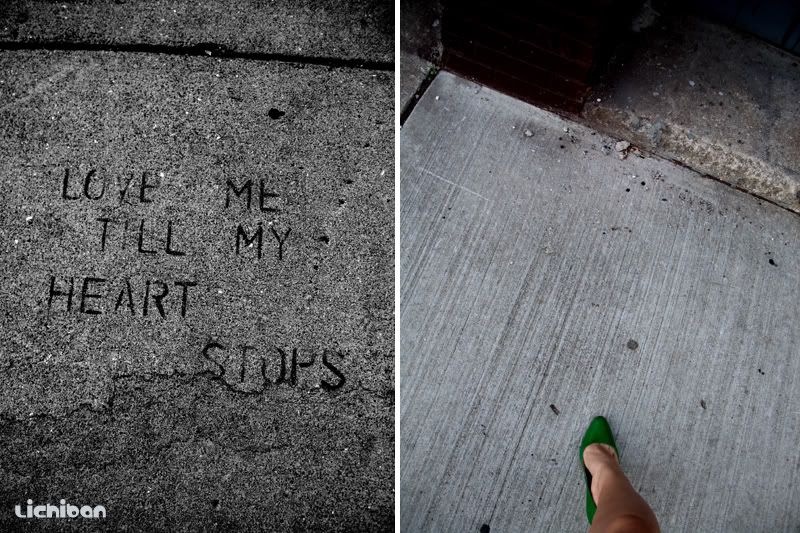 NIKKI NTU x MELO X x ALIEN x MEGA x LICHIBAN x
YUME
A.L.I.E.N

& Audio Aesthetics and The Galaxy Riders present NIKKI NTU's exclusive listening party of her debut "The History of Dreams"

//// King Mega of ALIEN and
Audio Aesthetics had asked me to bring some of my work to Nikki Ntu's listening party at YUME...was definitely honored...I love what they do and I was blown away by Nikki's album, produced by other heavy-hitter Melo X...It is one of freshest sounds I've heard in a while..beautifully soothing and gently stimulating with the truth. Make sure to keep your eye for her album dropping at the end of the year. Thanks Mega!!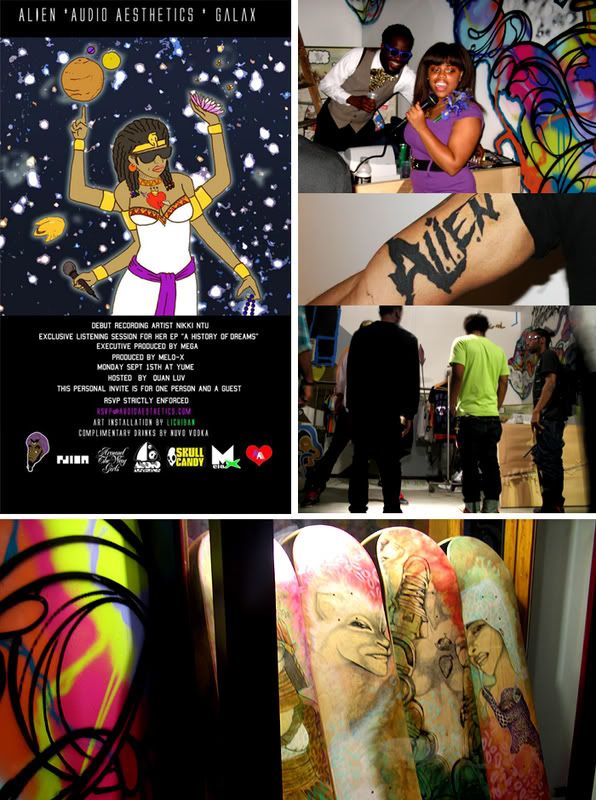 Peep my Kat mural behind the crew. shout out to dope talents Quan, Theophilus & Wesley



here are the professional shots by Daniel Warrington. Melo X, Theophilus London, Nikki, Quan Luv, Mega & friends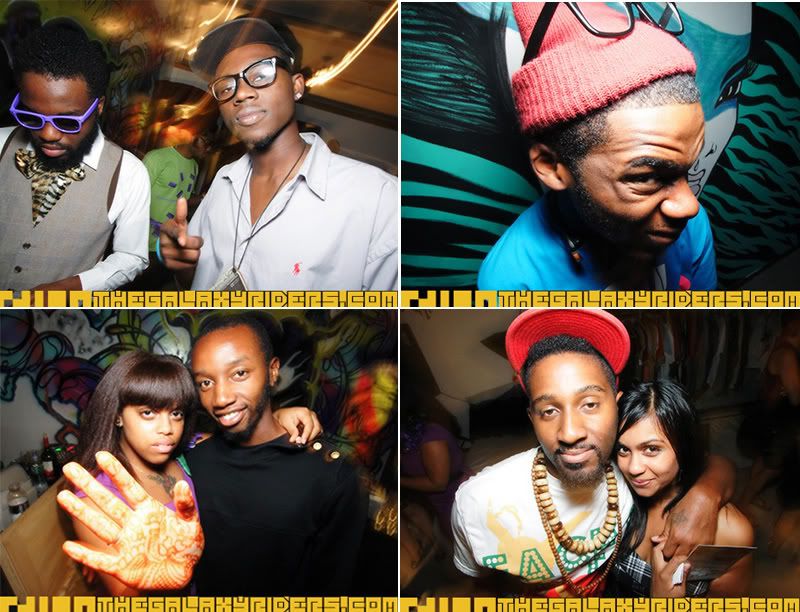 THE BIRTHDAY WEEKEND
friday, september 5 ////
started out pretty sane...met up with the boys of 21MC, Jelsen, Ekene, Yego, three of the illest designers of all time....... Jelsen & Bahareh are two of my favorite peeps so that was already enough treat for the day...but then...

it got crazier...

and crazier! The dopest Afro-Mediterranean restaurant, A BISTRO (154 Carlton Ave b/w Myrtle & Willoughby Ave) is the place where it all went down (my fav spot in Fort Greene!)...big thanks to the staff, made the night truly unforgettable:-)
BIRTHDAY CONTINUES...THE SCENARIO
w/ Waajeed of PPP & Bling 47, Dhundee, Stimulus, Daru, Blackcocaine & The Real Live Show

saturday, september 6 ////
so despite the torrential rainstorm all-day, my b-day party turned out to be one of the funnest nights of my life...I guess when you have an incredible crew of friends to bring light to your life, every day is a birthday! but this one was extra special....The energy was unbelievable. we danced HARD all night...
My favorite Diamond Girl...Amir and Ebon lol;)

Daru (ex-Slum Village), Waajeed & Jackie O

I love these women! phenomenal talents, Sarah White, Rucyl, Eagle Nebula & Jamila Reagan
then Daru got on the drum... and it got betta and Betta!
all night long...
Rucyl, my boy dope drummer/DJ, Nappy G (Turntables on the Hudson), Laura D & Ekene came back for a second round
Human Photography represent...Dhundee got beats
6:30 am morning blur...Sugarhill afterhours breakfast getting us ready for heavy dreaming...
BROOKLYN BOUNCE
Every other Saturday, my homies Dhundee and Stimulus throw the hottest parties at Deity, Brooklyn, where you can catch live acts, such as Nachy Bless, super talented MC of the Real Live Show.
My peeps, Amir, Dhundee and Tshidi at Brooklyn Bounce, Deity
MOBIUS COLLECTIVE
at Rose Lounge (Williamsburg, BROOKLYN)
If you're into real good music, Mobius Collective's nights are where you find true diamonds. My friends, Sarah White and Don Cuco had a mesmerizing performance there last month. One of the resident acts, Noble Society's true-to-the-core roots/reggae performance that made me want to keep coming back for more.
VIRGO B-DAY BASH

at Tamboril (Myrtle Ave, Brooklyn)
My good friend, the wonderful Alonzo of Minority Report is part of the tribe of superdopeVirgos. It was my honor to have my work shown at his birthday party...Check the event photos on Al's site.



then it was time to celebrate Yah, my favorite Virgo sister


URBAN ARTS MARKET
(Myrtle Ave, Brooklyn)
Virgo power...on left, two of my favorites, Yah (
Cocolah
,
S'aint Yacque
,
YakBlak
) and Al of
The Minority Report
...already legendary!

The female wing of 21 MC consist of two of the most talented and hard-working hustlers I know. M.J. Zilla (read about her on my other blog,
Wronglips
) and Texas aka
That Kid Texas
have been setting sonic and visual trends to enlighten and to revolutionize
lichiban hearts texas!
the world would be a different place without these two. My wonderful friends, Yah (check her
on Wronglips
) is a true Renaissance woman...her creative talent is intimidating.. and George, who is a secret agent from the Guyanian tribe of universe healers. If you want to get blessed by one of his magic belts, check out Yah's new site
COCOLAH.COM
. Look for
G4
One of Yah's venture
YAKBLAK
.
The lovely Ngozi of Harriet's Alter Ego (293 Flatbush Ave). We just had our highly successful
all-girl artshow GIRLS DREAM IN COLOR, on display until October 30th.

Back again the next week. I love George. Afrika Bambaatta was dropping gems.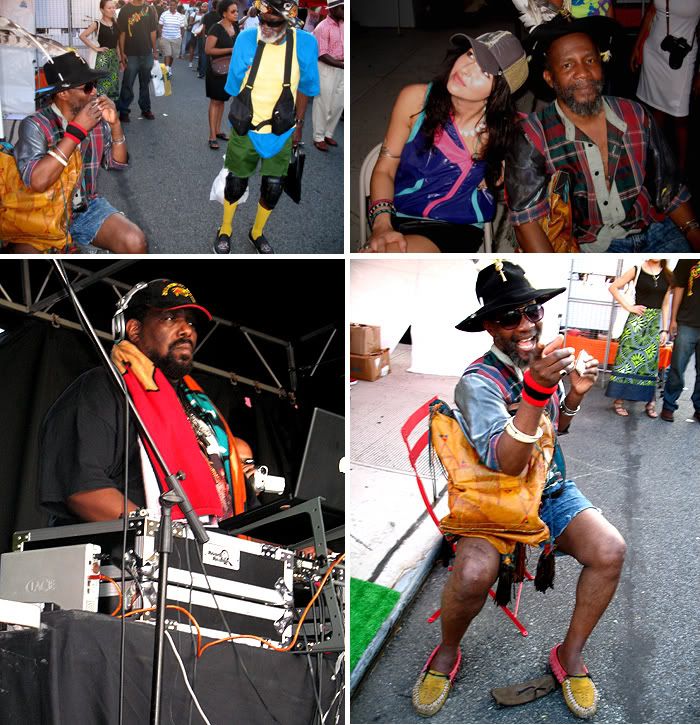 fly ladies,
Sallomazing of Dope Swan
and Wendy from Raggamuffin

double-dutch at Habana Outpost with rope made of hair!!! only in Brooklyn
THE GYPSY LIFE
So I am building my third nest this year. I moved twice this year and I finally tried to consolidate all my scattered possessions...lesson learned...if you can avoid it,
do not
move on Memorial Day weekend. I had the classic nightmare type move...we all laughed it off at the end tho...big shout out to my beloved homies, Vanessa & Bradford James who, as always, gave me the royal treatment at 10pm before setting out on the road. Thank you & Ivan for making it possible!!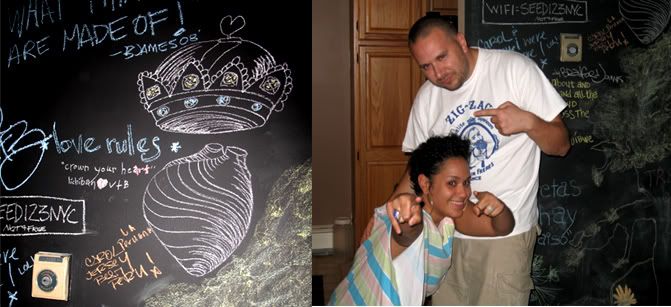 The attempt to bring my old mattress to the new home...after a number of warnings from the protectors (rain, mattress sliding off of the top on the highway...potential catastrophy hazard), I had to let the baby go...it's all good, we all need to let go!! It's a new beginning.
and last but not least....don't forget to VOTE!!!