Hailing from the land of the eternal sun,
Pesu
has traveled from Tokyo through California to his eventual home base in Brooklyn to become one of the most well-known and beloved live painters on the New York art scene. (Who doesn't love Pesu?!) One of the illustrious members of Old Soulz crew along with Yaz and Riz22, Pesu is bringing his native flava, leaving his unmistakable brush strokes and signature red sun-dot around the city. He has live painted over 150 times and won numerous art battles. I had a chance to paint alongside him a few times and see the man in action...he is a beast! Make sure to check out his upcoming collabro show with Concep at the Gallery Bar (11/19).
PESU
/////////////////////////////////////////////////////////////////////////////////////
WHAT DO YOU DO? Create ART & Enjoying my Life in NYC.
WHERE DO YOU CALL IT HOME? Mt.Fuji & BK.
TRUE BEAUTY IS…Understanding.
BEATS…Makes my life = art more colorful.
TRUE SEXY IS…Virgin? i don't know. lol
MUSIC IS MY…Air
ART DOES NOT…exist and understand very much.
MY NIGHTS ARE…Henny, patron, grey goose... drink! lol
THESE 3 TURN ME ON…NYC, Dreams, Good shit
SELF-KNOWLEDGE …draw, dream, self- confidence, will and struggle....
ENOUGH OF …War.
MY CREATIVITY IS…from my LIFE.
TRUE POWER IS…Nature.
LIFE CAN BE THE...bullshit cuz every one is not equal
I DREAM OF...Japan.
TO LOVE IS TO…Love and Believe.
I'VE GOT FLOW BECAUSE….of the new york shit and cali shit.
THE WOMAN OF THE FUTURE…has 3 boobs. lol
WHERE CAN WE REACH YOU?Every Thursday "Deja Vu" @ Element (225 Houston & Essex/ave A) I'm painting every week. Say "Old-Soulz" for free b4 12:30am.
hope to see you there!!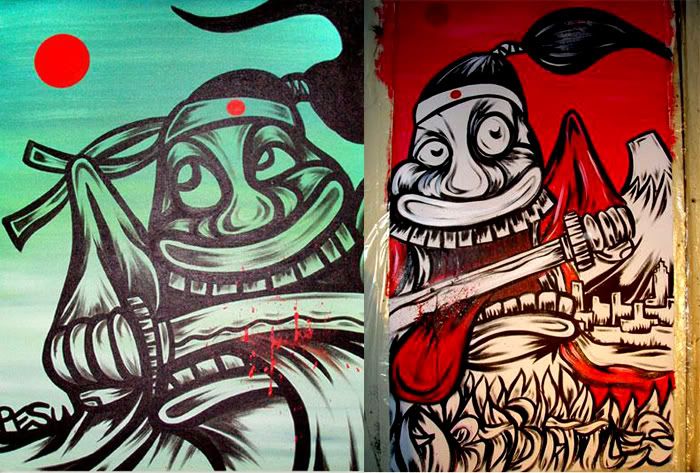 Save the date for the big collabro show of PESU and fellow visionary, CONCEP coming up on Wednesday November 19, 2008 7pm at the Gallery Bar Show with a common theme of
Love and Peace
.