opening :: light :: ascent :: serpent :: heart :: future :: now :: gaze :: mirror :: self :: mirror :: divine :::

NEW WORK from the
SECRET LIVES OF SAMURAIS FROM THE LAND OF ETERNAL LOVE


Lichiban
:::
"Leopard Lux :: I carry light"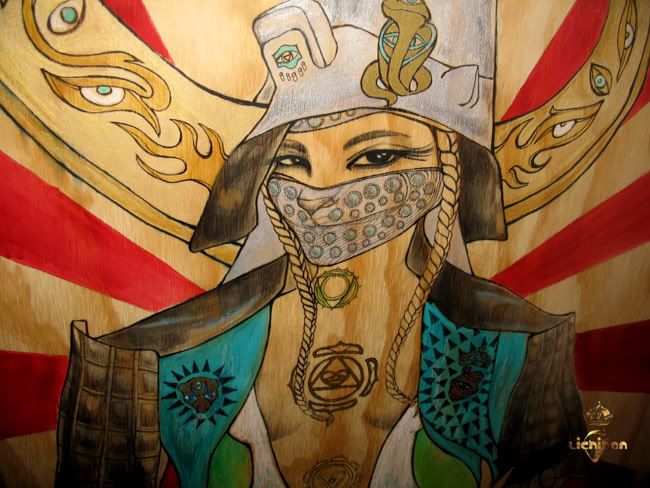 Quan Luv
x Lichiban
collab
"Harakiti & Lotusheart :: I'll Meet You In The Light..."
Working with Quan on two of our collabs was connecting on both creative and spiritual levels. Our characters knew each others and started to activate old archives of knowledge in us.
Lichiban
:: [beginning of my collab with Concep, I made this and then handed it over to him]
Concep
x Lichiban
:::
"I'll Meet You In The Crystal Cave"
One of my favorite painter friends, Concep hasn't seen the rest of the work when he painted this, but he managed to tune into not only the subtle theme of the show (painting her aura) but also the color scheme of the rest of the work..he made the piece radiate with a glow..a quality he has mastered in other of his work as well.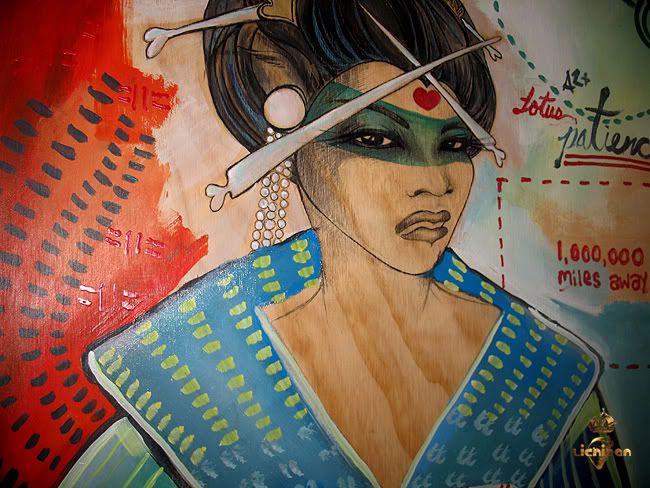 Lichiban x Quan Luv
::
"Harakiti & Lotusheart :: The Prototype".
This one was the very first piece of the show. I drew Lotusheart and then Quan went in with his character, the cosmic lover
Harakiti
, Lotusheart's long lost Ninja warrior. I worked on this for more than a week and it is one of my favorites.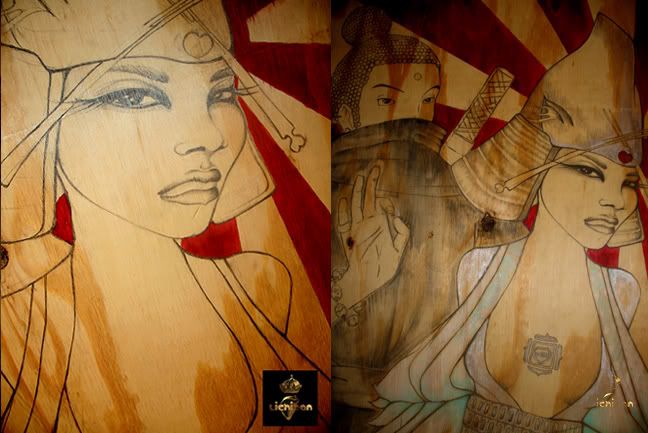 Lichiban
::
"Ray of Six Petals"
inspired by my fellow feline warrior, beautiful amazon woman
Raye 6.
I can't wait to have her new album, 'She Looks Like Fun' drop soon...Watch out for her, she is the next big thing.
Lichiban
::
"The Return of the Future"
Theophilus London
. He'd asked me earlier to do a pitch for his upcoming album, This Charming Man. During the all-night painting sessions, I kept myself inspired by listening to my friends' tracks (it happens that most of them are dropping or just recently released their new album, which is why I made a point of making their music into the soundtrack of the opening. I am planning to draw all of them as time permits)
Lichiban
::
"The Challenger:::My Defeat is My Redemption" & "Leopard Lux ::: I Carry Light"...
there is so much I could say about these two...On the left, the young Mega D masquerading as Darth Vader/Challenger.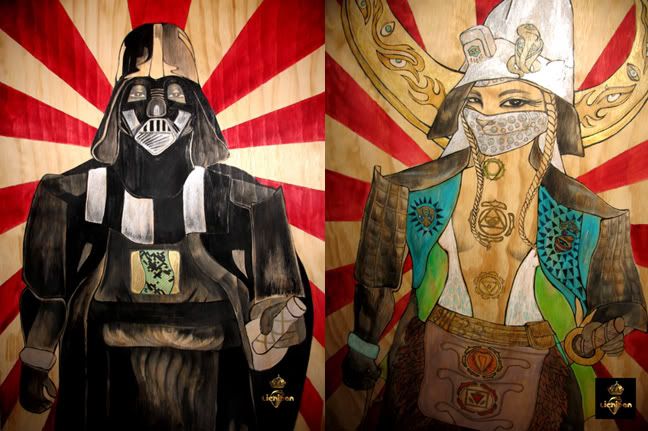 Quan Luv x Lichiban
collab
"Harakiti & Lotusheart :: I'll Meet You In The Light..."

Quan drew Harakiti on this one first and then I took over with the rest continuing to unfold their story. I love Quan's characters, his drawing skills are outrageous.

Lichiban ::
"Serpentpower Reminds Lotusheart"
. I painted this one live at
Mutant Folklores Digitales
show in Brooklyn
The Hall of Heroes
Hall of Ninjas featuring
Pesu
x Lichiban collab ::: Pesu did an amazing job with this...I tried to keep it simple to let his part shine ::: pieces in this series were painted live at various locations in NYC.
Off the Wall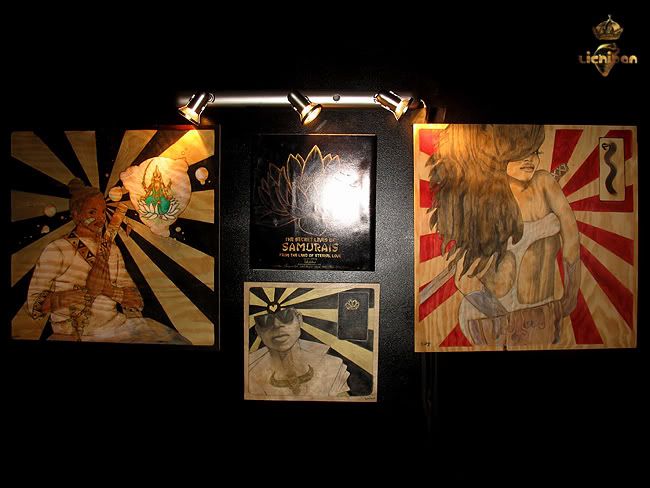 the inspiration of these works to a large degree came from sharing our creative energy with my dear friends during the
all-night powwows, collabos
& priceless conversations
or from listening to their music. i spent the last week staying up till 7:30-8am trying to finish everything...will never forget the support. thank you!
stay tuned, more images of collabos and show pics are on their way!
oh and feel free to leave comments