Here are some of the photos from the opening night...After all, the sleepless nights were all worth it, we all had a blast on Saturday! This show was a huge test for me; a test of my ability to produce a consistent body of work under heavy time pressure while also going bigger than usual. My technique is super tedious, so I was sitting all night in front of my board for often more than 10 hrs until the sun forced me to go to bed at 7:30am. My phone had also some virus or some memory problem which ended up causing problems with my SMS service, so as I learned later that I wasn't getting half of the texts I was supposed to...perhaps it was the universe's unpleasant way of cutting me off the world and 'helping' me to keep on pushing forward with the work...I am still recovering from a pile communication backlog. Big shout out to Keica and her crew from the Brooklyn Access Community Television, who came through and interviewed Concep and myself that night and also came out to shoot at the beginning of the show! Also big thank you to Digo of Crazy 88s skate crew who invited me to talk about the exhibit at his Friday night show on
riseupradio.org
, the freshest youth produced social justice radio station out there in the apple. Much love and I owe you one for that.
Thanks to China for theses photos and for coming out! check more on her
flickr
.
L1:
Two of my favorite homies, Stimulus and Dhundee aka the
BROOKLYN BOUNCE
crew. Dhundee opened the night with exclusive unreleased tracks from our friends who are coming out with new records in the near future.
R1:
my katwoman mural at YUME I painted back in he summer.
L2:
my collab with
Pesu.
he killed this one big time.
I am deeply touched by just how many people showed love on Saturday. As I was going through these photos, I kept on remembering all the people who came out and brought their good energy...I think the photos speak about that without need for words. A lot of Brooklyn's finest creative minds --some of whom I know very well and some who I admire from the distance-- were at this event, so I tried to make sure to link everyone...partially the reason why this post took so long to post!
These photos below were captured 95% by me (with my magic camera now lost:().
Hosts, Theophilus London
and
Quan Luv
...both made it into the show visually. Quan and I made two collab pieces for the show...he was representing Harakiti, while Theo was the inspiration behind the
Return of the Future
piece. Make sure to keep your eyes out for
Theo
's new album,
This Charming Man
coming next month...it's gonna be big!
Susie & singer, Bilal and Laura Dee! my big inspirations
With artists exraordinaire, the homies
Livingroom Johnston
and
Concep
. On the right is my collab piece with Concep.
With
Diamond Girl
posing in front of our collabo. I drew her character, Condor, and she drew me as the Panther Spirit. Right: Keita of
Keistar Productions
(Keistar throws some of the best parties in Brooklyn including DJ Spinna's legendary Prince vs. Michael Jackson and the Stevie Wonder parties) and Betta of Music For Democracy &
EarthDayNYC
.
Dhundee
and Sima. On the right, another one of Brooklyn's amazing talents, the poet, spoken word artist, activist
Caitlin Meissner
with friend.

On left, the last image of the installation night, when
Dorjan
was helping me out till 4:30 am. You and Jason were my heroes that night..thank you! Carlos who presented me with a gift of his amazing artwork. In the background is
Kesed
, one of the most talented poets/performing artists out there today.
With Daoud and Rasu of
Coup d'Etat BK
movement..these fellas have done a lot for Brooklyn's youth and the arts. On the right, the homies I haven't seen for a long time,
Dar
&
Brahem.
Jason is rocking the tea-stained tee with my Samurai print, Shadowplastic put out. Thank you guys! Right: dope artists Chakaras and
Rodney White.
My homie I haven't seen in ages, dope MC & musician
Asen James
.
Malik
, dope photographer and the founder of the underground art movement
AvantYard,
which as I heard is back.
The collabo with the one and only
Jelsen Jargon
.
Jelsen's design -and in particular his typographic skills- are insane! Jelsen and I had
collabo
back in May, so I couldn't wait to see what he came up with. He custom built the font for the piece "Crown Your Heart" also in Hungarian, my native tongue "Koronázd a szíved", so my contribution was more in spirit rather than hands on work. Completely brilliant. Thank you Jelsen!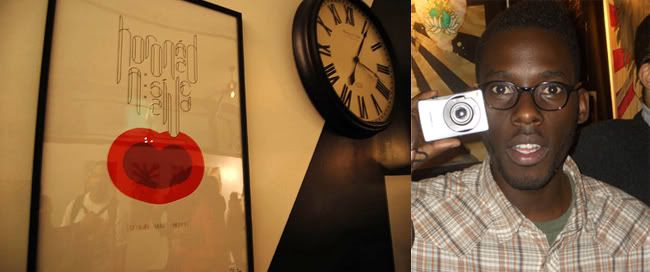 Jelsen with Sima & Bahareh, and photographer,
Stephanie Land.
Photo source: Jelsen & Bahareh's wonderous blog journal Courtesy of....check his account of
the show
and the making of
the 'collab'.
these came from my peeps at the A.L.I.E.N. crew The Galaxy Riders/A.L.I.E.N.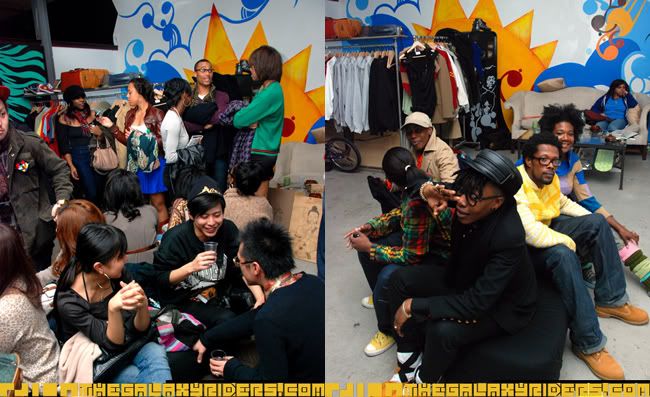 Melo-X
-watch out for him--another rapidly rising star of BK:: Quan of A.L.I.E.N. & Rasu of Coup d'Etat
Chillin with Dhundizzle :: Photo by Tamara Hood :: Theophilus & Melo-X

The sexy
Cee
, my photographer mama getting in on a quick shoot with
Bilal
.
Here are some of Cee's shots from the night.

Musical inspirations:
Theophilus London
,
Melo-X
. Originally Theo was supposed to perform along with
Jesse Boykins III
and
Raye 6
(who sadly was out of town to attend a family emergency), but as we learned shortly before the show, YUME could no longer host loud performances, so the NINJA JAM! was down a few blocks in another loft. :(well, at least you had a chance to hear some of unreleased tracks of these cats...watch out for them in 2009..they are taking over!

Right: Rasu with his lovely lady and Tamara on right
Nikki, Bentley, Jeff Donna and Dorjan

Mary Prior, Betta, Sima, my girl and collaborator
Sarah White
and Susie. Photo by Betta
Paridee runs three blogs, including
WhatsgoodinNYC
that gave me a
lot of support
. Thank you!

By the time I got to the NINJA JAM, the afterparty with Ninjasonik and Theophilus performing, the cops have dispersed the whole party:( so I headed with Amir and Livingroom to
Benji B
's birthday party at the Submercer, where his close friends Moni, Ge-ology and Waajeed were holding it down all night...was quite the night
thanks for everyone else I didn't have the chance to mention...you made this night unforgettable.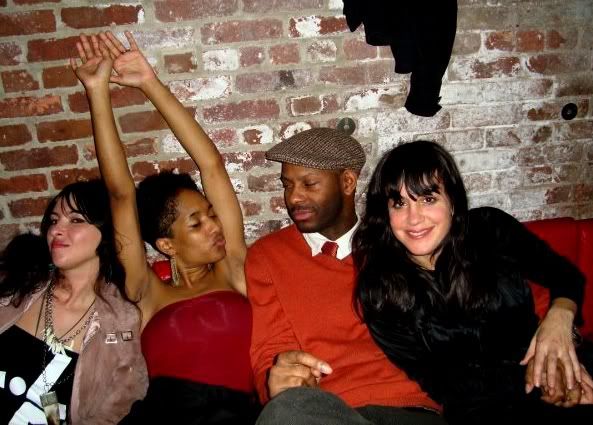 Big shout out to Mike of
YUME
who made this night possible and who believed in me from the beginning. Also to everyone else who helped me with encouragement! love you much