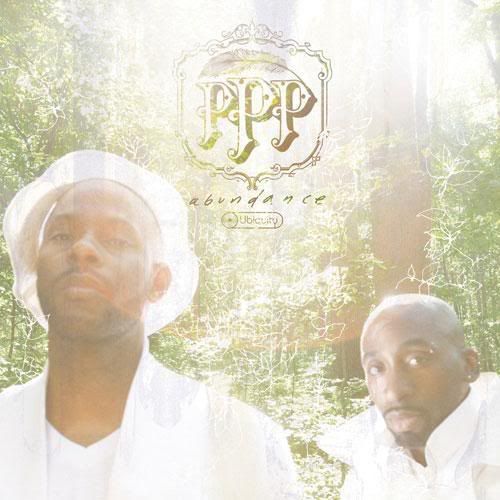 ABUNDANCE is golden!
PPP
's highly anticipated second album,
Abundance
, IN STORES NOW!!!!
This incredible record has been on heavy rotation in my cd player since the summer...and now it's finally available to the public! PPP (formerly known as Platinum Pied Piper) fans who have been waiting for a new record since their banging debut release Triple P are in for a treat. The new sound couldn't be more fresh and yet musically as complex and ferocious as music used to be back in the heydays of soul and funk...it is simply real, good music with a lot of soul and heart-hitting beats. PPP's ABUNDANCE takes their Detroit Motown-legacy to new heights creating a classic sound that is definitely on pair with the old masters. As I've been saying it since I first heard it, this album is huge and hearing it live might just change your life forever...if you were at the after-party of last summer's BROOKLYN Hip-Hop festival, then you know what I am talking about, but in any case make sure to catch the crew at their live shows. Meet the cast and check out other dope PPP & Waajeed videos from bling 47 on youtube.

Abundance features an all new cast of up-and-coming singers including the album's main songwriter, Coultrain, and leading ladies, Karma Stewart & Jamila Raegan (check my feature of them on WRONGLIPS), plus the return of PPP vet, Neco Redd. My two favorite tracks Luv Affair and Pigeon Hole are perfect examples of the vast talent that this new line-up represents. You can buy Abundance now through Ubiquity Records & Amazon, and iTunes. Support artists & good music by actually purchasing their work...unless of course it's free (check the free download ABUNDANCE mixtape link on the right.)

And there's still a lot more in store from Waajeed, PPP & the whole Bling47 crew - so be sure to stay tuned to www.myspace.com/waajeedandthebling47group& www.FRESHselects.net for all the latest music news, tour info, exclusive downloads & more.