My good friend, Brooklyn-based
musician, producer, artist

KIVA

has just released his much-anticipated new album
Degrees of Freedom,

which I love and have kept in my CD player on continuous play for a while...it also features among others, my girl, singer/producer Rucyl. I always had an admiration for Kiva's kaleidoscopic musical talent (he plays several instruments, writes and produces) and his dedication to the art of making real good, feel good soulful music...I had a chance to be part of several spontaneous jam sessions at his home studio Adios Babylon, and see the man in action... Kiva is the truth. I highly recommend his live release party where he will perform with a
9 piece band
coming up on this Thursday as part of the ongoing BAM "Sounds Like Brooklyn" Music Festival..don't miss it!.... Check my previous feature on him
here
and his recent interview on WRONGLIPS
by Sarah White (he plays in her band)
.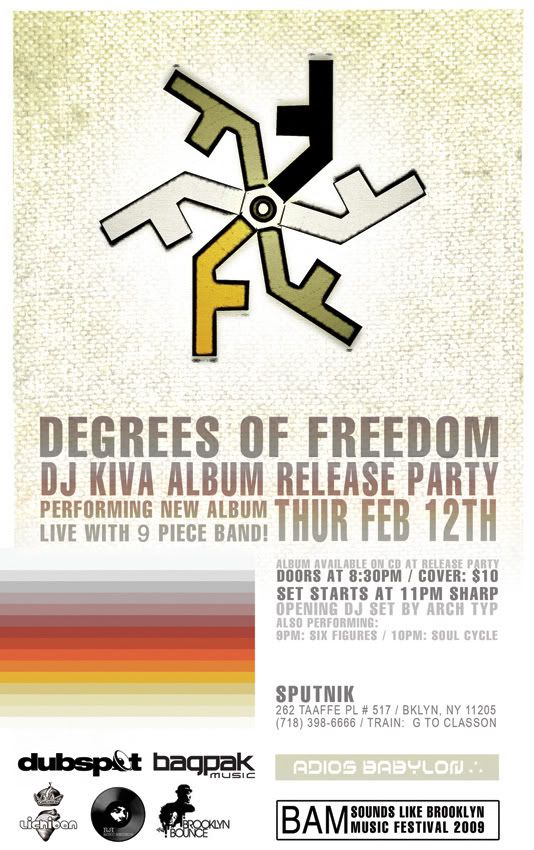 BAM "Sounds Like Brooklyn" 2009 Music Festival presents:
DEGREES OF FREEDOM
DJ KIVA ALBUM RELEASE PARTY
performing new album LIVE with 9 piece band!
featuring:
DJ Kiva / Keys & Live Electronics
Onome / Vocals
Sunru / Vocals
Daru Jones / Drums
Sean Clements / Percussion
Rico Mendez / Percussion
Elton Bradman / Bass
Harvey Valdez / Electric Guitar
Morgan Price / Tenor Sax
Rodney Siau / Trumpet
cover $10 / door at 8:30 / Set starts at 11pm sharp
opening DJ set by Arch Typ
also performing:
9pm Six Figures / 10 pm Soul Cycle
Album available on CD at show.
Digital download available at iTunes, www.bagpak.net,
Dancetracks Digital, and other fine online music stores
http://www.myspace.com/adiosbabylon
DJ Kiva is an NYC based artist/dj/producer residing in
Brooklyn and founder of the recording studio and label
Adios Babylon.Crafting original sound from his studio, Kiva introduces the world to the sound of Stuttastep: A form of music derived from a formula of beyond broken beats, afro-cuban time signatures, dubwise production, heavyweight bass, and a cast of talented NYC vocalists and poets. His music combines the best of soulful live performances with futuristic electronic music production techniques. He has released numerous full length albums and remixed many soul, broken beat, reggae, and dance music artists.His productions have been released on such labels as Adios Babylon (USA), King Tubbys Heritage Dub Foundation (USA), Tommy Boy ( USA), Kindred Spirits (Netherlands), Goya Music (UK), Bagpak (USA), and Sunshine Enterprises (Austria). A veteran live musician, Kiva also tours internationally as live
guitarist for " Willie Isz " featuring Jneiro Jarel and Khujo Goodie of Goodie Mob and currently teaches electronic music product ion at Manhat tan based DJ & Music Production School Dubspot.
http://www.adiosbabylon.com

About DEGREES OF FREEDOM


DJ Kiva presents the new full length album, "

Degrees of Freedom

." His most creative and diverse work to date, it explores a full range of the human experience through cutting-edge music. From soothing soul ballads, ecstatic psychedelic hip-hop rock, bittersweet jazz numbers, to intergalactic excursions into his signature stuttastep style, the record shines with a full spectrum selection of sounds. Combining the best of soulful live performances with futuristic electronic music production, the record features a highly talented crew of guest performers including NY afrobeat empress Toli Nameless, Nigerian born vocalist/spoken word artist Onome, Oakland based hip-hop artist Sunru, Philly's Jneiro Jarel, and many other talented singers and musicians.
___________________________________________________________
"New from NYC musician/ producer/ innovator, DJ Kiva, is " Degrees of Freedom," an album released for those who can appreciate electronic music or dance(able;) music in all its forms. He is an artist and musician that can take a blank canvas and create paintings that one could consider colorful, soulful, and psychedelic and another consider pure, minimal, or simply genius. The rhythms will keep your head nodding, your feet moving, and your mind opening with each track's raw energy and sound. From jazz, to experimental hip-hop, to broken beat, featuring unique and
powerful vocal expressions, there is something for everyone to appreciate. It is sure to be one of the most talked about albums for 2009 among those who enjoy innovative sounds and fresh new music."
- DJ Moleculez / Earthtronix