Raye 6
's much-anticipated mixtape is finally out and it's been well worth the wait. Raye has taken NYC by storm and is ready to unleash her sexy self onto the world at large...
The new mixtape
entitled appropriately
L.I.P.S- love is powerfully sexy
(produced by
Raye
6 & guided by Dj Victorious)...it's a def turn on. At times dark at others electrifying, the album is dedicated to stimulate the senses and is not afraid to explore all shades of sexuality. "Influenced by anyone who has stepped outside of the norm to create their own reality, Raye 6 brings you into her world of uncensored expression, class, fantasy and indulgence. During her sexually charged performances leaves audiences feeling turned on and free." Raye's a def artist to watch in 09.
My personal favorite is 'Sweet Dreams' the hottest Eurythmics cover/remix I've heard & the dark & haunting 'Hold Me Down' & Purple. The mixtape features remixes & samples from Prince, Eurythmics, Nas, Kanye among others, but Raye's takes these songs to another, deeper realm of the senses.
Read my earlier feature on her on
Wronglips
and give her feedback on her
page
.
I worked with Raye on a couple of projects. One of them is the emblem I drew and designed back in the summer. These are some of the many faces of Raye 6...her new look with a shorter haircut is no less fierce.
download the mixtape a week before the official release exclusively
here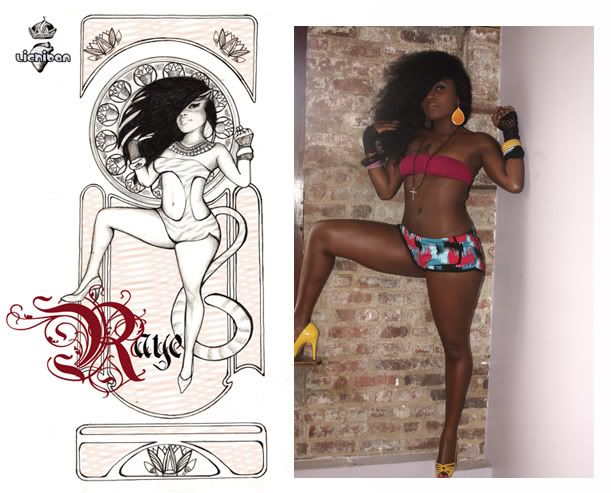 Raye as
Check out my good friend
Concep
's  versions of her.