Here are finally some of the photos from my recent show opening, BLING THY INNER WEALTH. Most of these folks are artists themselves--painters, fashion designers, musicians, film makers, writers, designers, educators, djs, producers, or activists and the freshest looking cats around...This is the core of my Brooklyn fam: some of New York City's finest renaissance visionaries I feel blessed to be around them, have their support and love and to be able to circulate inspiration and my creative energy with them. I sometimes realize that I take BK for granted until I go out of town and suddenly start to feel the difference...
Between trying to talk to everybody and sipping on a few lychee martinis specially made for the night (which was btw a big success, I heard Red Bamboo might put it on their menu), I tried to capture everyone, but inevidebly some peeps didn't make it onto my camera:( [Amir Ebrahimi, Carla & Mike Schreiber, Gigi Bio, Marthalicia, See1, Dynasty & Soul, Herve, Kim...I saw u!!] I'll try to link everyone so you can peep their work.
Raye 6 & Li :: cat power!
to have a taste of the Raye 6 experience, download her free mixtape
here
.
My beautiful friend Suzy, founder of
VONY
and
Bilal
::: w one of my collabo partners-in-crime/
Livingroom Johnston
, the living manifestation of gold!
BlackFruitPunch of the
Ahficionados
aka my man, Deffrei was manning the wheels...As always killer set. ::: Livingroom & Daoud Abeid of
Coup d'Etat BK
and
Sunshowah films
w/ Deffrei and the lovely
Betta Broad
, who organized the exhibit and is the person to go to about sales inquiries ::: my
galaxy rider
fam, Bentley, MEGA of Audio Aesthetic & curatedbymega and my collaborator Quan Luv...ill talents
The one and only
Sarah White
(also my blog partner on
WRONGLIPS
) and
Cecilia Stalin
(visiting the US from Sweden). ::: Iza (Sarah's daughter), i love her so much.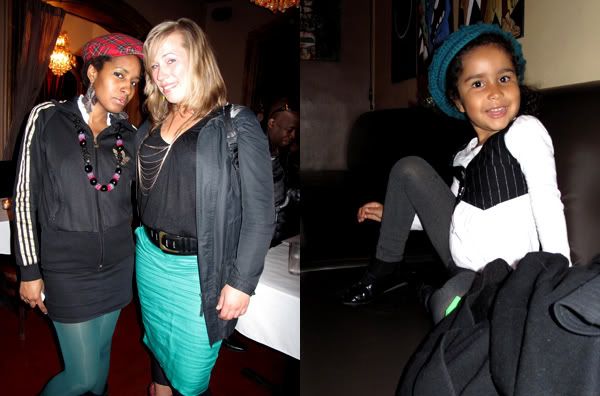 Concep
mad painting/designer/dancer skills (who also tuned into the adidas theme) and
Nacinimod
(he hand-made that dope jacket! check the
crop
) ::: the one and only
Jelsen Jargon
graphic designer extraordinaire &
Rodney White
, ill painter & my collaborator at the show.
the ladies of
YOUNITY
:: these beautiful mamas are phenomenal artists.
Stephanie Land
, L,
Diana McClure
,
Toofly
&
Alice Mizrahi
..we are going to be doing big things this year
Two of my favorites:
Nikki Ntu
, super talented MC/writer and my multitalented collaborator, the lovely
Paridee Kositchiranant.
My homie, drummer/producer/dj
Don Cuco
, expert in latin flava, with daughter Iza :: Cuco, Sarah White and LaMae Lamazing, amazing dancer and first lady of
Taste
.
My homie DJ/producer
Dhundee
(Brooklyn Bounce, Sugarcuts Inc) w/ Sima ::
singer Eric Rico
im the house! [right]

My lovely art pimp, Betta :: and super talented photographer/painter
Alexandra Cespedes
my sexy divas!
Raye 6
,
Suzy-O & Laura Dee
!! yes yes all my girlfriends are HOT!
Two of the illest Brooklyn bloggers, Al of
Minority Report
and Chuck of
NeverLeaveBrooklyn
. If you want to be in the know, make sure to follow their sites. :: w/ the sexy Ashley! i love this girl.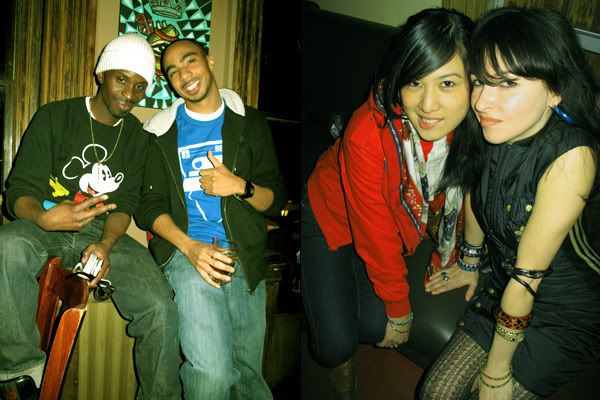 Simi and Nikki ::: that's my man, Claude! (Melo's manager)
Nikki Ntu & Soul...Dynasty Fresh, one of my fav clothing designers is there in spirit (thanks for the
love
!) ::: my collaborators-in-crime, super dope painter/designer
Upendo
(Leroy Jenkins), Quan Luv (A.L.I.E.N) and Bentley
Movers and shakers, Clarence Jay Foster, Cee the photographer (
Boys and Clothes
), Rasu of
Coup D'etat BK
::: Nikki and King Texas (!). check her
new photo site
..freakin amazing!
Betta and activist/ film producer Joel Mejia of
Dare To Dream
::: Leah and my girl, dope painter Gabrielle Wattson
Raye :: Rasu and Mike July, dope BK photographer
Stephanie & Sima ::: Mama
DuttyGeisha
, the lovely Sakir (DJ and jewelry designer) repping adidas as well!
Fellow artist Richard "Earthman" Laurent...thanks for the convo ::: dopest finale!

thank you!!