A little over a month ago, I participated in the PSA shoot for
Voices of New York (VONY)
a wonderful and much-needed educational project of my good friend Suzanna (
aka Suzanna Ali
(read an interview with her about VONY on
Coup d'Etat BK
). I've been a huge supporter of her project, and she's chosen me as one of the main art mentors for her organization, which I'm very excited about, since I always wanted to be part of some kind of art-educational project involving kids. Suzanna is a visionary with a holistic, spiritual outlook on education and she has in mind to build a program that would nurture a new generation of youth with a focus on encouraging creative expression from an early stage onward. She is planning to involve artists as art mentors who could also serve as role models for the youth. We used a work of mine that I did as collabo project with my good friend, Jelsen Jargon, called
We Are (
read my post about the collabo
here
)
.
This Tuesday, May 19th the premiere of our PSA shoot, also featuring
Bilal
and
88-Keys
, will take place along with a with spoken word performances that serve as a fundraiser for VONY. Def Jam and HBO have partnered with VONY to bring you "FLOW 4 CHANGE" showcasing some of the most talented poets of our time! See the flyer below for details. Here are some flicks from our PSA shoot near the Brooklyn Children Museum...this was back in early April, at the first spring weekend of cherry blossoms and 80 degrees balmy weather....the blossoming trees were shouting new life and flourishing future...a perfect symbol for VONY's growth and the blossoming of a future generation of creatives.
Suzy, Liz, Rasu of Coup d'Etat with the kids. Joel and Anna were directing the shoot.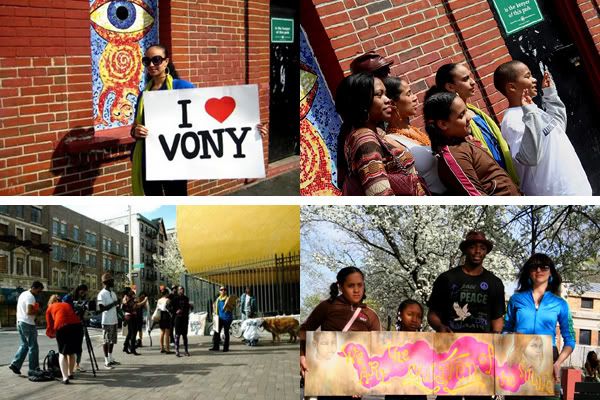 The event will be hosted by Bilal & Suzen Baraka with performances by Brave New Voices' Queen Godis and Joshua Bennet, Def Poetry Jam's Staceyann Chin and Black Ice, and our beloved poet and brother, Kesed just to name a few. Your support is greatly appreciated.
The VONY is dedicated to nurture a new generation of youth whose creativity is reinforced and guided by art mentors and visionary educators. So come out and support this fundraiser for Voices of New York Speak!