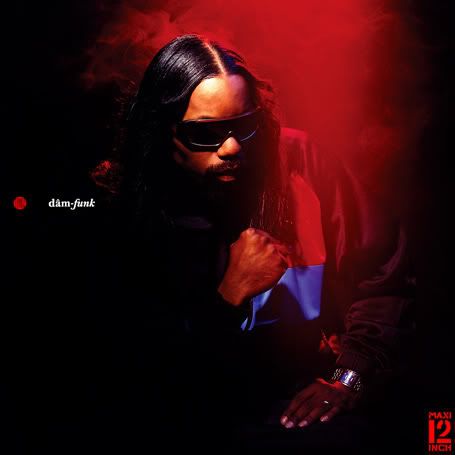 I am a big boogie and electro-funk head (still in a novice phase, but been following cats like Greg Wilson, the UK "godfather of electro funk" for years (check my feature on him from back in 2007
here
). I am excited to see that boogie funk, electro-funk, galactic funk or whatever you want to call it finally getting the attention it deserves...well at least in the UK and on the West Coast. One of my favorites, Los Angeles-based Dâm-Funk has been making big waves on local and overseas shores, and now New Yorkers get a chance to check what's all the buzz about this Friday, May 8th and Saturday, May 9th.
DâM-FunK, Los Angeles' Ambassador of Boogie Funk, is part of the Stussy x Stones Throw 2009 Tour that kicked off on April 21st in Los Angeles @ Echoplex and is making its way toward New York City. I'm also a big fan of James Pants and Peanut Butter Wolf, so this is going to be a quadruple treat. If you dig music that makes you feel good, then you don't want to miss out on this one.
Peanut Butter Wolf will be mixing music videos live, James Pants is performing with his band Royal Zodiac, and Dam-Funk and Mayer Hawthorne will be Djing. Mayer Hawthorne will perform a few songs with James' band as well. This will be the first US tour for James Pants, Dam-Funk, and Mayer Hawthorne and the best tour for Peanut Butter Wolf. Crazy line-up, not to be missed!!

5/8 NYC @ American Museum of Natural History. 9pm. 21+. $20
5/9 NYC 11pm. 21+. $10 (Pants, Dam, Hawthorne & Folerio) @Le Poisson Rouge (MAP) 158 Bleecker Street, New York, NY :: Tickets
To get a feel for the vibe you can expect,here is an exclusive DJ mix for Stussy (option click to download).

:: STONES THROW x STUSSY Connection :: DâM-FunK ~ Beautiful Music 4 Beautiful People ~

1. AURRA - "Like I Like It" (Inst. Vers.) // 2. NITE JEWEL - Let's Go (The Two Of Us Together) ~ 2008 // 3. A CERTAIN RATIO - "Hot Knights" ~ 1982 // 4. DâM-FunK - "Gold"~ 2008 // 5. PAULINHO Da COSTA - "Deja Vu" // 6. PARADISE - "Back Together" MAKOTO MATSUSHITA - "Lazy Night"~ 1981 // 8. POINT 3FM - "Picks Me Up (Your love)"~ 1987 // 9. THE LIMIT - "Destiny" ~ 1985 // 10. DEL RICHARDSON - "Rainbows" ~ 1983 // 11. SYLVIA STRIPLIN - "Keep Pushing"~ 1982 // 12. DYNASTY - "Lock On Love"~ 1986
Stay tuned for an exclusive interview with him coming soon. Check his page on stonesthrow.com.