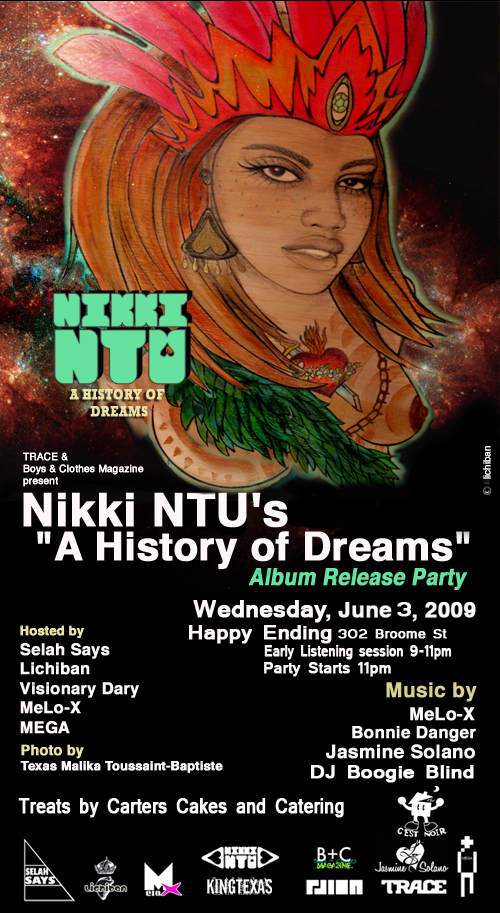 I'm pleased to present the first of my
Lichiban presents
music & art collabo series, the album cover I recently finished for Brooklyn- based songstress/ MC,
Nikki NTU
's debut release
A History of Dreams
... Nikki's commitment to make honest music with a spiritual message sets her apart from most other MCs today. Her lyrical flow is at times like a punch in the stomach, at others like a heart massage. The album produced by the one and only
Melo-X
(check his free mixtape at Featured Downloads on the right) who really outdid himself on the production end. Both artists are from the Brooklyn-based cosmic artist collective
The Galaxy Riders/A.L.I.E.N
. A History of Dreams is set to drop on June 2nd, and to get a taste of what you expect of this amazing album, they are giving away another new track,
Muse
.
DOWNLOAD it
here
!
Also Nikki's earlier track from the album,
Birth of Venus
, has gotten over 6000 downloads already, if you haven't gotten it already, make sure to
get it
.
As for my part, I will post a more detailed post about the inspirations for this cover and a step-by-step photo log of the project. I also designed Nikki's blog & logo, which you can check
here
. Stay tuned for this much-anticipated album coming soon...(and yes, it is going to be free!)
Make sure to come out to Nikki's release party on June 3rd, I am co-hosting with my homies Selah Says, Melo-X, MEGA, and Visionary Dary (this is going to coincide with the much-talked-about weekly
C'Est Noir party
).