As the first one of the
AURAL VISIONS :: Lichiban presents
series, I worked on as art director// illustrator// graphic designer for
NIKKI NTU
's debut album produced by
MeLo-X
, called
A History of Dreams
.
My story with Nikki's project began last year when MEGA, one of her executive directors beside Claude Dary (also known as MeLo-X's manager), contacted me to ask me if I'd do an art installation for Nikki's private listening party in September 2008 (here is
my post
about the event). After hearing the album, I was blown away by MeLo-X's super versatile production skills (this was before he dropped his first album,
Mustafa's Renaissance
) and by Nikki's amazing lyrical skills, and connected immediately with her message that was powerful, empowering and spiritual...a tendency I'm very happy to see growing among the next generation of artists, who are fellow seekers and are trying to communicate good, higher vibrations and a love message through their art. (I think it's becoming more and more obvious to those who read my blog that I specifically support artists who have this kind of message...As the world is heading toward a cosmic transformation and a future of global struggle, artists are awakening to their mission to counteract all the negativity that is getting released through this shift. As I've been saying it for a while, I believe there is a new ART LOVE MOVEMENT in the making and we are the builders of it. I am very conscious about connecting people with this kind of approach to doing art.)
But back to Nikki, I was very happy to be part of her and MeLo's project, a beautiful ascending sonic voyage through the land of cosmic dreams and this-wordly realities.
DOWNLOAD
Nikki NTU :: "A History of Dreams"

HERE!!
While meditating on the cover, I'd try to focus on two aspects of her spirituality :: the visionary amazon-poet shamaness & and the modern-day warrior-priestess. The heart is a very strong symbol for her (this is another aspect on which we connected). Here is a passage from her art statement, that says so much about her spiritual stance
"With strong themes of healing, revolution and love, Nikki is birthing new concepts of female empowerment but moreover people empowerment. "My music breaks down a lot of barriers in people. The rhythms bring out emotion and the lyrics stimulate the mind as well as the heart. Those simple things have a great impact on inspiring and informing folks. And when you have a safe space to put everything on the table, healing is the only outcome."
For me, this project was more than just a commissioned work...
She is in many ways on the same mission that I have been traveling for a while...to mediate an old but timeless message for the present generation through her art. Nikki is an old soul and as I learned more about her and her project, I realized that two of us were meant to do this together. She had an amazingly loving & supportive core team of Melo-X, her producer, and MEGA and Claude Dary her executive producers and myself (big shout out to all three who have been giving me lots of love & support throughout as well)...the energy that went into this album and the spirit of the people involved made this project very special for me. You can expect more visual & sonic collabo's with this group in the future..it's meant to happen! Thank you!
Make sure to link
Nikki's
and
MeLo's
blogs and link them on myspace (
Nikki's link
//
MeLo's link
) as well.
Here are some of the steps...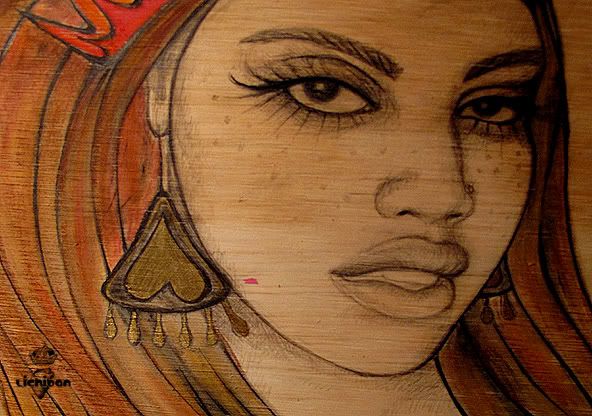 I played around with a number of logo ideas until we picked the final version above.