Just as I was ready to expand my choice of media to experiment with animation and film, a couple of opportunities of playing around with fashion & art offered themselves. I was getting ready to do a live art piece on one of Tiffany Rhodes, founder of Butch Diva's sexy catwoman suits for the Canvas and Chaos event in BK, when another friend of mine, stylist/fashionista
Vanessa Guzman
approached me with a similar idea. What's even greater about the project that it serves a positive cause.
Vanessa is working on putting together a fashion show for Second World's
Sixth Annual New England Culture Fest
under Valerie Parker, a filmmaker, sustainability activist and executive director of
Second World
. Second World is a pro-fair trade
non-profit arts organization
dedicated to empower thousands to not only earn a living wage, but to also survive poverty, wars and natural disasters to ultimately contribute to a very important aspect often left out of the international development model: to preserve ancient cultures and fast fading indigenous ways. A few years ago, I used to be more involved with hands-on humanitarian work, and I've since tried to keep supporting such causes through my work as an exhibiting artist as well. This was a new kind of challenge, but perfectly in line with my direction these days...bringing the need to preserve indigenous cultures into the forefront. Scroll down to read more about the festival coming up this Saturday in Lowell, MA and find out more how to get involved.
While I was visiting Vanessa to drop off the dresses, she and I had a spontaneous photoshoot. The photos of her were captured by me, while the ones of me were taken by Vanessa's partner-in-crime Bradford James, producer/ DJ and founder of SEED Recordings.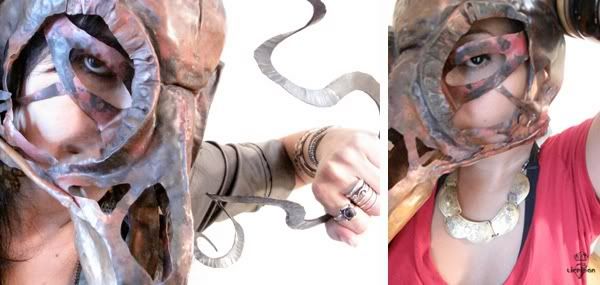 IF YOU ARE IN THE AREA, MAKE SURE TO CHECK OUT THE BIGGEST CULTURAL EVENT of the season :: September 12, 2009 (rain date September 13)
Ancient Meets Urban at The Sixth Annual New England Culture Fest 2009!!
LOWELL, MA, August 20, 2009 /Press Release/ -- In an exciting fusion of film, fashion, world culture, and fair trade advocacy, The Sixth Annual New England Culture Fest returns to the Arts District of downtown Lowell, Massachusetts at the Middle Street's Enterprise Bank Parking Lots (2:00PM -10:00PM) with a world class lineup of music from around the world fusing the indigenous with the modern on behalf creating a more equitable world. In its sixth year, this outdoor benefit festival will feature Senegalese phenomenon Gokh-Bi System, who combine ancient sounds of instruments like the bougarabou, djeme and sabaar drums, ekonting- with modern hip hop beats and rhymes in multiple West African languages accompanied by African dancers and, a special treat to set the tone: the ladies and gentlemen of the 2009 Fashionably Fair Runway Show will showcase recycled and modified clothing from local and global cutting edge designers strutting their stuff to the music and a special surprise from urban fashion label and beak dance crew, Losst Unnown.

The fashion show from the Fashionably Fair advocacy program fusing fashion and fair trade in a stunning display of innovative design supporting economic justice and indigenous cultural preservation in the local and global community. Let recycled vintage set the scene this year with style source Cult of Individuality makeup artist Nichole Richard, urban fashion label and Boston break dancing crew Losst Unnown, Jamaica Plain artist Maj-Britt Pedersen and Lichiban a Brooklyn-based visual artist to create a play between tribal and urban that just might be the fabric of the future. Original creations will meld haute couture with urban and current ethical design pulses, with hair and makeup by innovative cutting edge stylists showcased on the beautiful and diverse faces of Fashionably Fair ethical fashion revolution to live music from the NECF09 headliner, Gokh-Bi System! Since their arrival in America in 1999, Gokh-Bi System completed 10 US tours sharing the bill with artists such as Kanye West and Damian Marley. Gokh-Bi emcee Mamadou says, "Through our music we want to spread that sense of family we share in Senegal around the world."
Also on the bill is Boston's reining reggae king Mighty Mystic and the Strings of Thunder
who captured national attention for his string of hits including "Treat Her Right," "Riding on the Clouds," and the recent "Here I Am" featuring superstar
Shaggy. DJ Ray will juggle innovative funk, world, and hip hop beats in between and host a spotlight called Dance for a Better World featuring Boston's leading DJs, veteran DJ Bruno (Utopia), Bradford James (SEED) and Adam Gibbons (Uhuru Africa) plus surprise guests.
"First" World. "Third" World. Forget What Your Were Told. Welcome to the Second World.

Second World's mission

On the Second World website under "Initiatives" please find information regarding Second World projects. They involve not only documentation and in-depth research, but also the education of the public through marketing initiatives and the development of art empowerment projects and micro-credit funds to re-establish income generation in disaster/conflict affected regions. With funds raised from the New England Culture Fest, Second World will continue to develop these initiatives linking New England with communities throughout India, Nepal, Peru and Jamaica to increase awareness of fair trade and increase the number of orders given to cooperatives, along with establishing a self-sustainable online portal of multimedia information regarding fair trade, and its cultural/economic impact for disadvantaged indigenous and marginalized communities.