"Funk is not a fad, it's a way of life" insists LA fam,
DAM-FUNK
, who has been responsible for keeping funk alive and bringing back the good vibrations with his trademark galactic/boogie touch--giving birth to a kind of sexy cosmic music that makes you feel free and elevated. His debut album
Toeachizown
has finally come out in a double cd-version last week. The album was released in 5 parts on Stonesthrow (check below for the individual release links) and is going to drop as a delux 5LP set early next year. This Tuesday, FADER will present the album release party at BROOKLYN BOWL, BK, which is expected to be a blowout...not to mention that it's a free event...don't miss it! Check out
a video
of him spinning in BK back in August and
my interview with him
from earlier that also includes some freebies.
Also, for a week you can listen to a special 3 hrs Dam-Funk set on one of UK's top BBC radio hosts & DJs, the homie Benji B
here
. Shout out to Benji who actually put me on Dam Funk over a year ago. If you want to stay up on fresh music, tune into Benji's program on BBC
here
.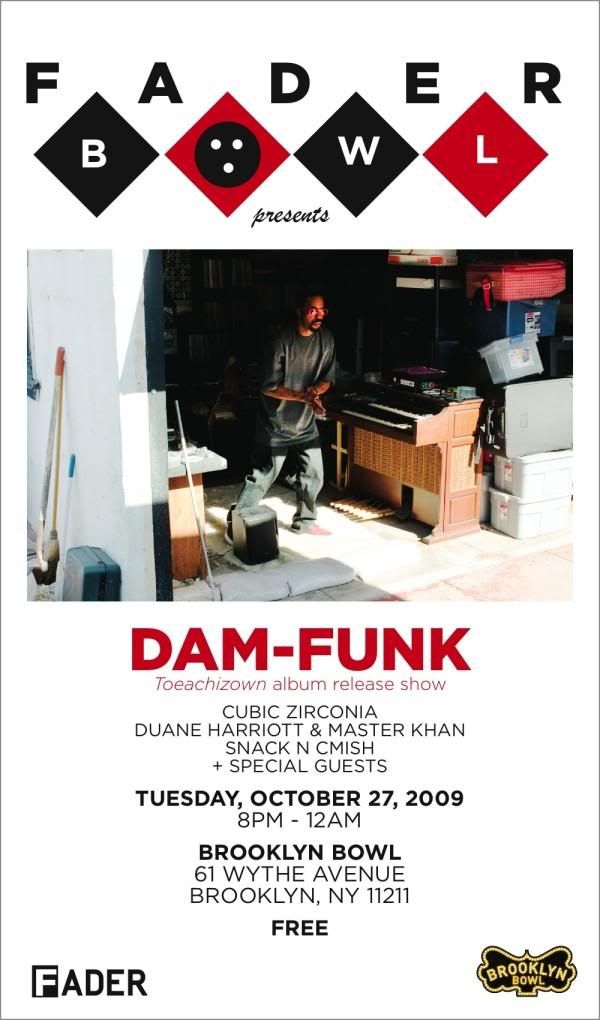 Dam-Funk -
Toeachizown (Double-CD Version)
2/CD with 6p. folder, $16.98
Dam-Funk's debut album
Toeachizown
(2/CD) is here and will be released worldwide on Tues, October 20th. The double-disc CD contains over 2 hours of music.
The vinyl will be released as 5LP box set.
Note: the 5LP box is delayed due to manufacturing issues – we hope to have it in late Dec. 2009-Jan. 2010, and will announce as soon as a release date is secured.
In anticipation of the 5LP set Stonesthrow have released the five distinct parts digitally:
Toeachizown Vol. 1: LAtrik
$6.93 //
Toeachizown Vol. 2: Fly
$5.94
// Toeachizown Vol. 3: Life
$5.99
// Toeachizown Vol. 4: Hood
$5.49
//Toeachizown Vol. 5: Sky
$5.99