This post is dedicated to every child and adult whose childhood has been prematurely cut short.
One of my favorite photographers and huge inspiration, Brazilian artist SEBASTIÃO SALGADO is a true master of capturing the human spirit on film. His book, THE CHILDREN was my first reference I turned to when I started going back to drawing a few years ago. His collection of photographs of refugee children from all around the world is one of the most powerful visual documentations of the effect of war and trauma on children.
Salgado originally trained as an economist, turned to photography in 1973. He spent several years with documenting migrant workers, and from 1993 to 1999, he turned his attention to the global phenomenon of mass displacement of people, resulting in the internationally acclaimed books
Migrations
and
The Children
published in 2000.
In the introduction to Migrations, he wrote, "More than ever, I feel that the human race is one. There are differences of colour, language, culture and opportunities, but people's feelings and reactions are alike. People flee wars to escape death, they migrate to improve their fortunes, they build new lives in foreign lands, they adapt to extreme hardship…."
His images speak without words...about terror, loss of innocence, the horrors of war and the beauty of the human spirit that- even while faced with the harshest conditions-
can
transcend the shadows of the past and heal the presence. This piece, inspired by one of the photos from his book, THE CHILDREN, on the left was one of my first pieces I exhibited (I donated it to a fundraiser for Emergency) a few years ago...I was at an early phase of experimenting with my style and media. After buying the book, I would keep on returning to these images and stare at these children's telling eyes...many of these kids were born and spent their entire life in refugee camps. (e.g Rwanda, Lebanon, Croatia, Afghanistan, India, Mozambique, Sudan, or Kurdistan). I believe that
Salgado's photographs have the power of changing someone's life (a quality I think every artist would love to own). Someone told me that at his show of THE CHILDREN, they displayed the photos as giant, larger-than-life size prints and the power of these images made many attendees burst out in tears.
"I hope that the person who visits my exhibitions, and the person who comes out, are not quite the same," says Mr. Salgado. "I believe that the average person can help a lot, not by giving material goods but by participating, by being part of the discussion, by being truly concerned about what is going on in the world."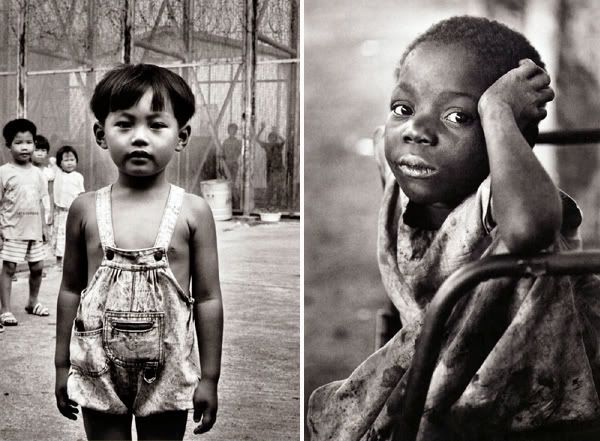 You can see a few more photos from the book
here
for instance, but I strongly recommend actually owning this book. Also check out his other massive masterpiece,
Migrations
. To read Salgado's bio, visit
here
.