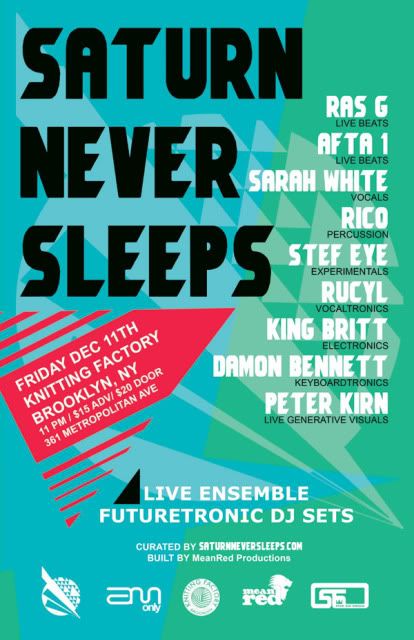 NOT TO BE MISSED!!! Also check out the free download below
From SNS:
Saturn Never Sleeps is now proud to present our New York monthly in Brooklyn! Our live electronic ensemble this month is amazing!

After the live show, we will party til 4am, playing the best in futuristic eclectronic sounds !
For more information on past Saturn Events and the movement check:

saturnneversleeps.com. We are also happy to partner with MeanRed in NYC, which always stands for true quality! Lets go to Saturn.


// Get tickets
Friday, December 11, 2009 at 11:00pm
Knitting Factory Brooklyn
361 Metropolitan Ave
, Brooklyn, NY



From Los Angeles beatmaker and dreamer, Ras G, the cosmic sonics of Afta-1, Minneapolis to Brooklyn Sarah White, Rico and boundary pusher Stef Eye, angelic siren Rucyl, keyboard wizard Damon Bennett and aural creator King Britt. Visuals by Create Digital Media's Peter Kirn.