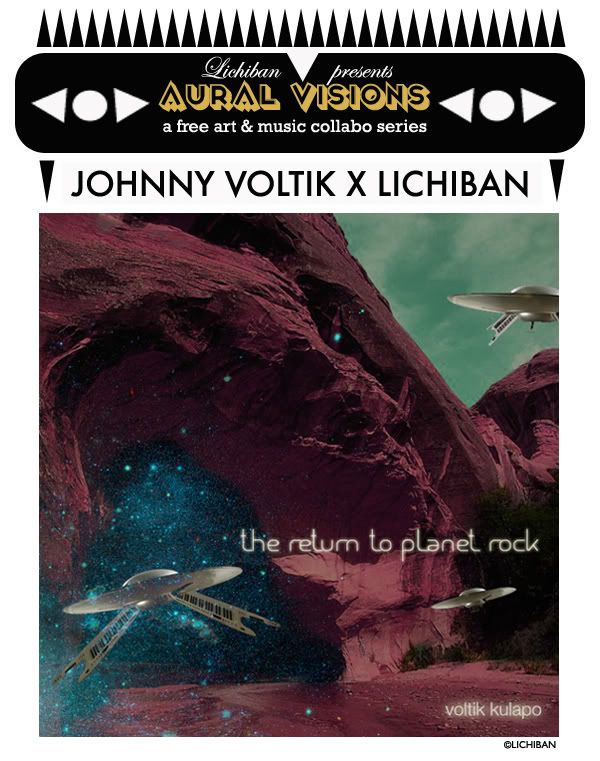 I had a chance to collaborate with my good friend
Johnny Voltik aka the Alphalove
on his instrumental
beat sampler
mixtape

The Return To Planet Rock

. I had this image made already when he showed me
some of the tracks and
the concept he had in mind, and from then on it was a wrap...I even got my own joint with my name on it. While Johnny is working on finishing his new debut project THE RED ALBUM (which will have a different vibe with killer vocals & more of a psychedelic rock/ hip-hop feel), I'll be working on the cover for it.

JOHNNY VOLTIK aka The AlphaLove 'The Return To Planet Rock'
In the first of his series of instrumental installments, The Return To Planet Rock,
JOHNNY VOLTIK aka The AlphaLove
takes listeners on a space and time penetrating sonic journey through the cosmos to a seemingly forgotten planet called Rock. First discovered by Afrika Bambaataa and The SoulSonic Force, Planet Rock is the ancient homeland of the treasured tree that birthed the seed of hip-hop and electro and a whole cultural movement that have spread its branches all across Planet Earth. On his Return To Planet Rock, Johnny Voltik sets out to explore hitherto uncharted territories fusing experimental hip-hop, house, electrofunk, breakbeat, trip-hop, afrobeat, and poly-rythmic psychedelica to present listeners with a taste of an entire new blend of sonic frequencies.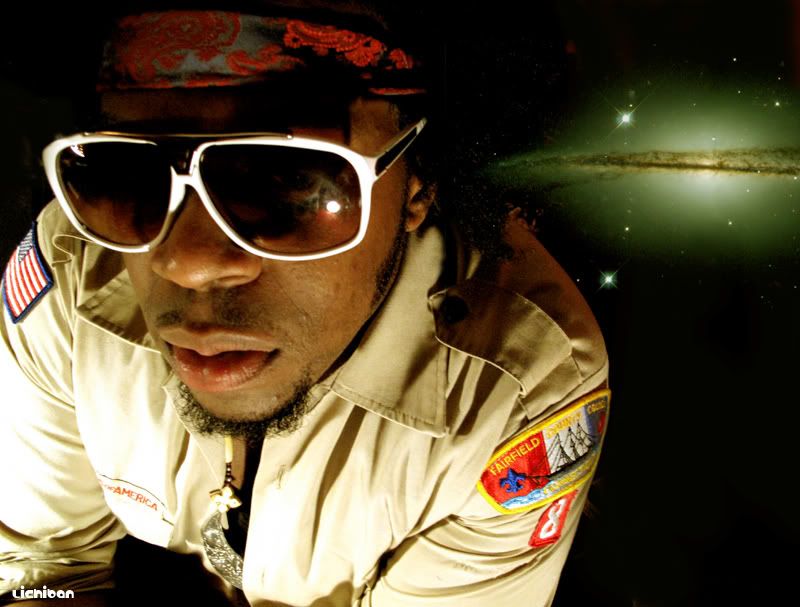 Johnny Voltik joined forces with close comrade, visual artist Lichiban who provided the quintessential vision of Planet Rock's magic landscape. This 30-track sound odyssey was actually created during the course of several astral travels to the planet and it includes a snippet of Voltik's highly-anticipated The Red Album set to drop in April 2010.
Voltik explains, "The planet itself is a materialized mass made of pure ether...being there inspires total P.E.A.C.E. (Positive Energy Activating Constant Elevation, The RZA). The whole time I was there, I was high just off of breathing in the atmosphere...it was amazing." Voltik describes the music as "the purest form of my sound, no holds barred, not quantized, whatever came to me while I zoned out during my meditations. The Red Album will be more focused and harnessed with lyrics. This one doesn't have my lyrics and it is more of an experimental journey through different shades and moods of sound vibrations, so listeners can feel me on many different levels. If you like this just wait for The Red Album which promises to take you to a whole other level of music."
The Return To Planet Rock is a blend of cinematic interplanetary sound journey and straight dance vibes, grooves, feels and it is available as a FREE DOWNLOAD on
johnnyvoltik.bandcamp.com
. The Return To Planet is part of Lichiban presents :: Aural Visions [a free art & music collabo series] which can be found on
blog.lichiban.net
.
ROCK IT DON'T STOP IT!
DOWNLOAD for FREE
// myspace.com/johnnyvoltik
//
twitter.com/JohnnyVoltik
reverbnation.com/johnnyvoltik
Stay tuned for the first single 'HIGHER' from Voltik's upcoming debut release, 'THE RED ALBUM.'
JOHNNY VOLTIK "Higher" live from Lichiban EV [Electric Vision] on Vimeo.
Catch him live on January 26, 2010 8 pm, $10
PUBLIC ASSEMBLY, Back Room 70 North 6th St, Brooklyn, NY
YUME presents:
Johnny Voltik
along with TR & Nicky V & YM LIVE!