I recently connected with artist Jake Fragua and the two of us had made plans to do a collabo mural. While checking out his
website,
I found out about this show that he is part of (he is the spokesperson in the video featured below). It is currently on display in NYC, not to be missed!
Ramp It Up: Skateboard Culture in Native America
December 11, 2009–June 27, 2010
George Gustav Heye Center, New York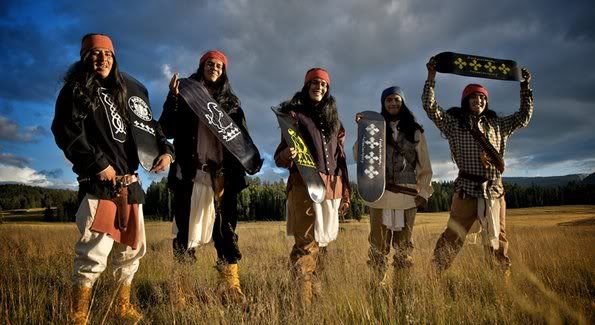 Members of the 4 Wheel Warpony skate team (White Mountain Apache). Photo courtesy of Dustinn Craig (White Mountain Apache/Navajo), 2008.
American Indian Skateboarding Exhibition in New York

An exhibition celebrating the vibrancy, creativity and history of American Indian skateboarding culture is on view at the Smithsonian's National Museum of the American Indian in New York, the George Gustav Heye Center.
The exhibition features the work of visual artists Bunky Echo-Hawk (Yakama/Pawnee), Joe Yazzia (Navajo), Traci Rabbit (Cherokee Nation of Oklahoma) and Dustinn Craig (White Mountain Apache/Navajo) and highlights young Native skaters such as 20-year-old Bryant Chapo (Navajo) and 10-year-old Augustin and 7-year-old Armondo Lerma (Agua Caliente Band of Cahuilla Indians).

The Smithsonian National Museum of the American Indian in New York, the George Gustav