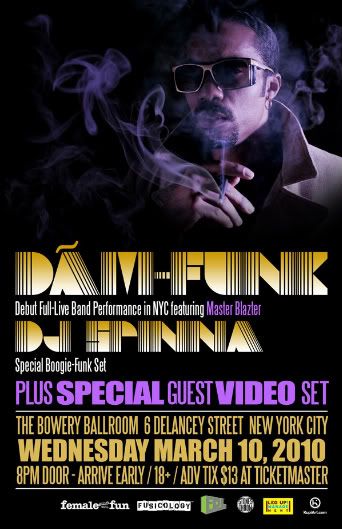 DAM-FUNK NYC DEBUT WITH FULL-LIVE BAND
I had the honor to get to see the first-ever  New York performance of DAM-FUNK with   Master Blazter, his full live-band with Computer Jay on the keyboard and J-1 on drums, last night at a secret location in Brooklyn.  Dam played for a small industry crowd and promptly blew away everyone in the audience. Having a band just took his sound to a new level---all this is pretty understated compared to the actual experience of absorbing it live. Dam is not about fads or fame, but staying true to himself and his craft- the cosmic dimension of his music felt most directly at his live shows (astral energy channeling right there, if you are open to it, you can feel it!). 
Dam's modern/galactic funk sound is the definition of real, feel-good sexy music and I think he is going to be a catalyst for the birth of  a lot of new music along these vibrations. If you have a chance, go check out his public debut in the Bowery Ballroom (6 Delancey St, NYC) today...going to be bananas, I guarantee.
One of Brooklyn's favorite djs DJ SPINNA is going to bring a special boogie-funk set (I'm really looking forward to that one as well) and there will be a special guest video set & a surprise appearance...
8PM doors // Advance tix for $13 
Dam-Funk with Master Blazter March 9, Brooklyn  (apologies for the photo quality, i only had my blackberry on)

Highlight from his recent interview at the Red Bull Academy in London