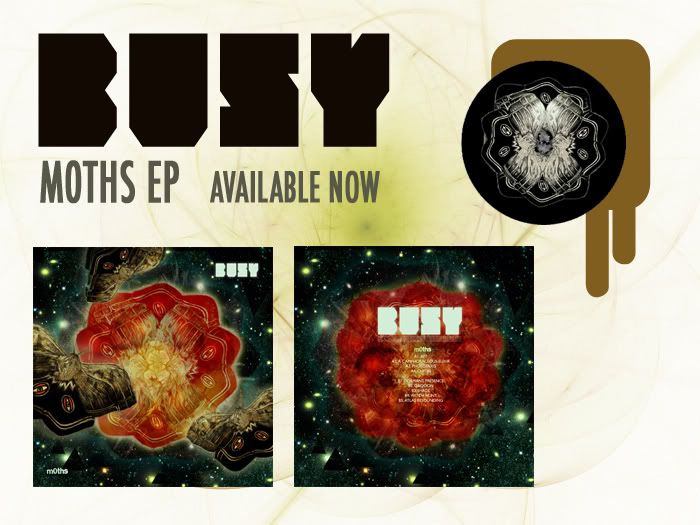 released 08 April 2010
All songs written and produced by Bradford Johnson, Jr. (Busy)
Album artwork and page design by Lichiban
Hailing from Maryland,
BUSY
a.k.a Bradford Johnson Jr. is a long time collaborator with Mono/Poly (Brainfeeder/Faces), producer of the highly limited 'Raid' 7" (Circulations) and a highlight of the recent Beat Dimensions II compilation. A couple of months ago, I had a chance to be visually part of his first full solo EP, "Moths". The album is a cinematic journey of 9 instrumental tracks that go from meditative, atmospheric soundscapes to dark experimental territories evoking giant cosmic insects, lush rainforests and space travels... I loved the project, so it was easy to play around with the concept.
It is a highly visual album, I had the vision of the cover in my mind pretty much at first hearing...thankfully, BUSY gave me full freedom with the design. Given the cosmic feel of the sound and the album's title MOTH, I immediately thought of the symbol of the moth in Sufism (Islamic mystical tradition I studied for several years). Moths are known to be attracted to light, and even willing to throw themselves in the flames during their mad dance around the fire. In Sufi poetry, the moth is the symbol of the ecstatic soul yearning to be consumed by the flames of the divine Beloved, God. It is a symbol of the seeker's love for light and of self-sacrifice-i.e the sacrifice of individual ego awareness and the experience of oneness with God/the inner divinity, one's true divine Self. So for the front cover, I made a burning cosmic 'mothflower' mandala (divine self) that the individual moths are flying toward and getting consumed by on the back of the cover. Originally, I was only supposed to do a small sticker for the vinyl release, but the label liked the design enough to make it into the entire album cover...which I was obviously very happy about. I wish someone wanted to do an experimental video animation, so the image could come alive.
I also redesigned his
myspace page
and his
bandcamp
site. The album dropped in April and is available on
itunes
. Look out for his new projects as well, such as
his excellent remix
for my girl Sarah White's new remix EP, "Fade."