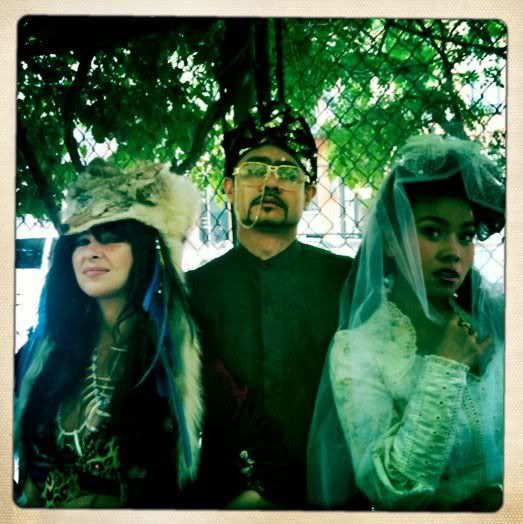 Some of the still shots from last weekend's
MY M.O.
'Monkey' music video shoot I was part of. I'm not going to say much just yet, I'll let the images do the work...All I can say that it was an amazing day with an amazing crew...everybody put in their best. The accessories for my Himalayan shamaness outfit was courtesy of my good friend, artist/stylist, Masahiro Ito. Shout out to the spaceage herbalist, Divine Elohim for providing us his space for the shoot & everyone involved. And of course big thanks to the MY M.O. crew-Erika Buestami, Dion MacKenzie, Katy Walker & Joel Mejia- for having me and my artwork be part of this.
(with the father of the bride, the Sultan of Brunei [Mike Genato] & the wyfe-to-be [Erika "Enki" Buestami] photo: Katy Walker)
If you want to see them perform live, you can catch them perform today from 9pm-10pm at Rose Live in Williamsburg, BK. Free admission!
this & photo below by Aric Gutnic