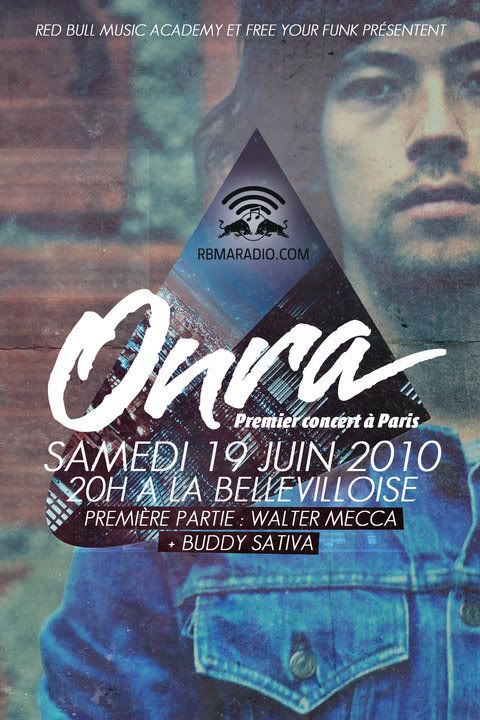 Here is some ear candy from Paris-based producers,
ONRA
whose new album have been on heavy rotation on my player this summer. ONRA's new album
Long Distance
is the ultimate feel-good summer jam that makes you nostalgic about an era of spandex, roller-skate disco parks and space travel...which seems to have its revival these days (minus the roller-skate parks, unfortunately). I recently
interviewed him here
, and heard from him that he's working behind the scenes to set up a US tour...NYC should definitely tune in. Don't sleep on it!
From Red Bull Music Academy: "It ain't hard to tell - when it comes to samples, Onra can chop like Zorro and flip like Daley Thomson. Ever since his Tribute LP with fellow french producer Quetzal caught the ears of DJs like Benji B and Gilles Peterson, Onra has been on a roll, working with labels like Favourite and All City. Along the way his 'Chinoiseries' LP, made from a crate digging expedition to Vietnam, was released to the delight of fans of offbeat hip-hop while his All City Release 'Long Distance' stepped up the pace, offering an exciting piece of boogie drenched post-Dilla MPC magic. With a pace of more than an album a year he's keeping himself incredibly busy, so we're happy there was a chance to record his record release party for 'Long Distance' at La Bellevilloise. Apart from his trusty MPCs he was joined by Buddy Sativa on keys and Weirdata's Walter Mecca."
TRACKLIST: Onra - The Anthem - Favorite Recordings Onra - Intro - All City // Onra - My Comet - All City // Onra - High Hopes - All City // Onra - Girl - All City // Onra - Send Me Your Love - All City // Onra - My Mind Is Gone - All City // Onra - Rock On - All City // Onra - Long Distance - All City // Onra - Sitting Back - All City // Onra - The One - All City // Onra - Jeeps - All City // Onra - Tape This - All City // Onra - To The Beat - All City // Onra - Oper8tor - All City // Onra - Moving - All City // Onra - Cosmup -Unreleased