"Free passion is radiation without a radiator, a fluid, pervasive warmth that flows effortlessly."
(Meditation in Action, Chogyam Trungpa Rinpoche)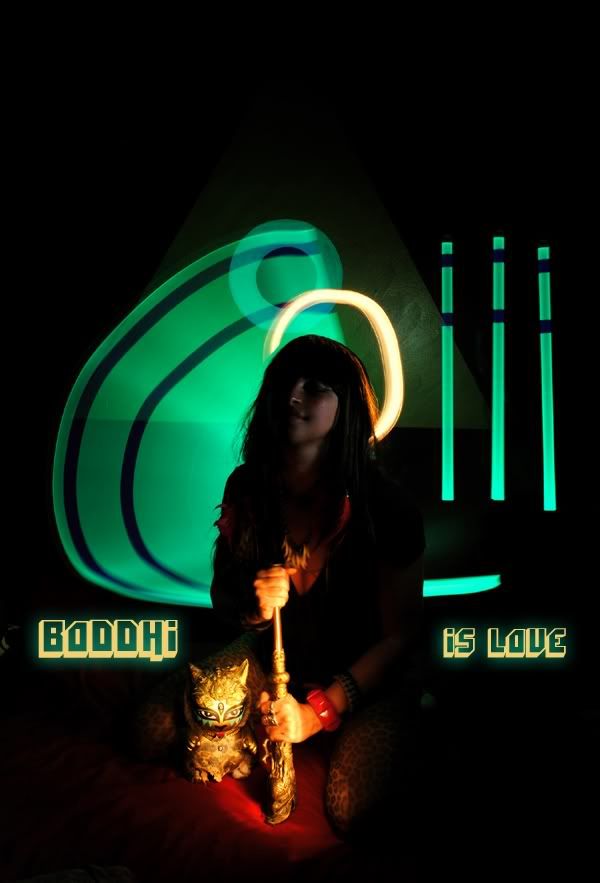 My intergalactic cat shaman, the shapeshifting dimension-slicer jedi of Mt. Golden Blossom,
BODDHI
is BACK from his retreat after
his arrival on Planet Earth
on March 14th, 2010.
He is going to host my next show
"GALAKTIKAT: THE RETURN OF THE FELINES
"
coming up on AUGUST 21st at the
LOTUS Temple of Visions Gallery
, which will feature collaborations with Livingroom Johnston, Ibrahim Yaqut, Kesed, Quan Luv, Mega, Texas Malika Toussaint-Baptist, WEZN, Tajeme 'King Gnep', Divine Elohim, Nacinimod of House of Nassat, G4 and Mari J Brooklyn, and a few surprises that i'll keep for later...
The photos are the first of a series of a new project by
LUX27
, a creative collective involving WEZN & myself. More soon! This series is going to be one of the collabos featured in my exhibition this month.
P.s: Cats on Earth is a new discovery. I'm about to dig through his music blog.