I'll be part of two group shows this weekend. The roster is pretty exciting, don't miss these!
FRIDAY: The White Train is excited to announce the first of a 3 part series of events, called "Create. Collaborate. Inspire". In this first event titled Space on White, we have broken down our creative platform into three sections:

The GROUND LEVEL will introduce our photographers, as well as showcasing the products of our online store.
The BOTTOM LEVEL will re-introduce our artists and their new works since the Launch Event.
The UPPER LEVEL will unveil new artists and their works.

Space on White
Friday, August 27th
6 to 10pm,
81 White Street
New York, NY 10013

www.SpaceOnWhite.com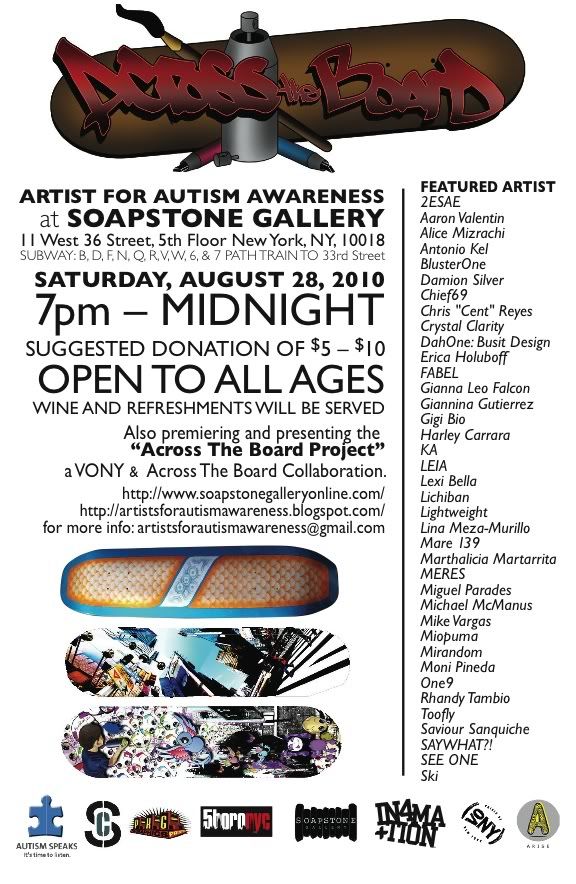 SATURDAY: Across The Board: Artists For Autism Awareness
On Saturday, August 28, 2010, the Soapstone Gallery in midtown NYC will host over 30 artists transforming raw skateboards into one of a kind works of art. All pieces will be on sale with a portion of each sale donated to Autism Speaks.
Across the Board: Artists For Autism Awareness at Soapstone Gallery NYC: Organized and conceptualized by Laurie Markiewicz, her love for skateboarding, art and most of all her child, Jack. At 2 years of age, Jack was diagnosed with PDD-NOS(a non-specified type of autism). It has been Laurie's mission to raise autism awareness and advocate for more programs and services for families within the NYC autism community. "Across The Board" is one way of achieving her goal. Featuring artists such as Miguel Paredes, One9, BlusterOne, TooFly, Alice Mizrachi, Gigi Bio, MERES, Marthalicia, Lichiban, 2ESAE, and Damion Silver, veteran as well as emerging artists give voice not only to autism awareness, but to relevant community issues. "Across The Board" is an open discussion, but a dialogue that is ultimately designed to create a greater urgency about Autism.
In keeping with that mission, premiering at the event is "The Across The Board Project" a short documentary filmed and edited by participants from VONY's (Voices Of New York) "Dare To Dream Project" youth program. Featuring autistic children, participants from VONY's (Voices Of New York) "Kids Dream In Color" youth program with teaching artist Lichiban, artist mentor Marthalicia, singer Bilal, and art therapist Lina Meza-Murillo. The Across the Board project is a workshop produced and organized by Laurie Markiewicz (Across The Board) and Suzanna Ali-Oliver (VONY Executive Director) offering children on the spectrum a chance to partner up with VONY kids to design and paint their own skateboards to premier at the "Across The Board" event.
Saturday, August 28, 2010 from 7pm-Midnight
11 West 36th Street 5th Floor
New York, NY 10018
Open to All Ages
$5-10 suggested donation
Light refreshments served