I'm super psyched about this project that takes me to Albuquerque, NEW MEXICO. I was invited by fellow painter, Pueblo artist
Jaque Fragua
(scroll down for video) to participate in a collaborative mural project with him and Chris Stain as part for this week-long street art festival in the city. Earlier I had
posted a video
about him; beside being a working artist, Jaque is also an outspoken social and environmental activist with whom I've been building with for over a year-I'm really honored to be part of this. Plus I can't wait to experience the art movement outside of NYC, I'll be working on this for a whole week next week. The show is going to open on October 2nd at the 516 ARTS Gallery.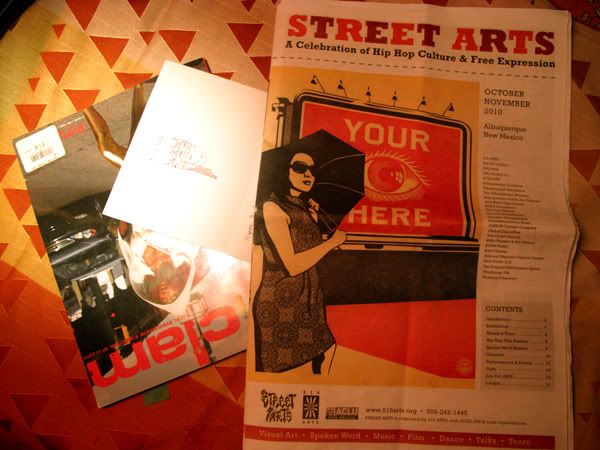 STREET TEXT is a two-part exhibition examining Street Art and its evolution into a worldwide cultural movement. The upstairs portion of the exhibition titled
Art From the Coasts
is curated by Andrew Connors, Curator of Art at The Albuquerque Museum. He compares masters of graffiti art from New York and Los Angeles, including the work of Chaz Bojórquez, Gajin Fujita, John Lorne and Lady Pink, as well as the documentary photography of Henry Chalfant. The downstairs portion of the exhibition titled
The Populist Phenomenon
is curated by Francesca Searer of 516 ARTS. It includes a mix of local, national and international artists, and examines the artists' work as a means of expressing a message to the masses. Featured New Mexican artists include Ernest Doty, Jaque Fragua, Stevan Gutierrez, Thomas Christopher Haag and Albert Rosales; and guest artists include Shepard Fairey, Gaia, Mark Jenkins, Alexandre Orion, Chris Stain, Slinkachu, SWOON and Chip Thomas. Work includes on and off-site installations, photographic documentation, portable representations of wheat-paste, stencil and canvas work methods and video clips and films of street artists in action. The STREET TEXT exhibition is the center of a citywide series of events titled
STREET ARTS: A Celebration of Hip Hop Culture & Free Expression
during October and November, presented in partnership with the ACLU-NM and involving 25 local organizations. The project celebrates art in the urban environment and explores issues of free expression.
Download the Street Arts Guide
.
http://www.516arts.org/exhibitions.html
Some words from Jaque's last show in Santa Fe."Though their traditional lifeways are based in the natural world, many Native communities today find themselves deluged by trash. Jaque Fragua's exhibit
RUBBISH aka Cities of Trash
features objects—steel cans, automobile parts, scrap wood, glass bottles, used tires, and loose paper—drawn from heaps on southwestern Pueblos and reservations and re-integrated into various contexts as public art. These works, from the ongoing project of artist
Jaque Fragua
, are designed to provoke dialogue about the exploitation of Native lands and encourage environmental conservation."
To learn more visit or www.ccasantafe.org
Music: "Off Time" by Wilder Beasts (Hoka Skenandore, Jaque Fragua)